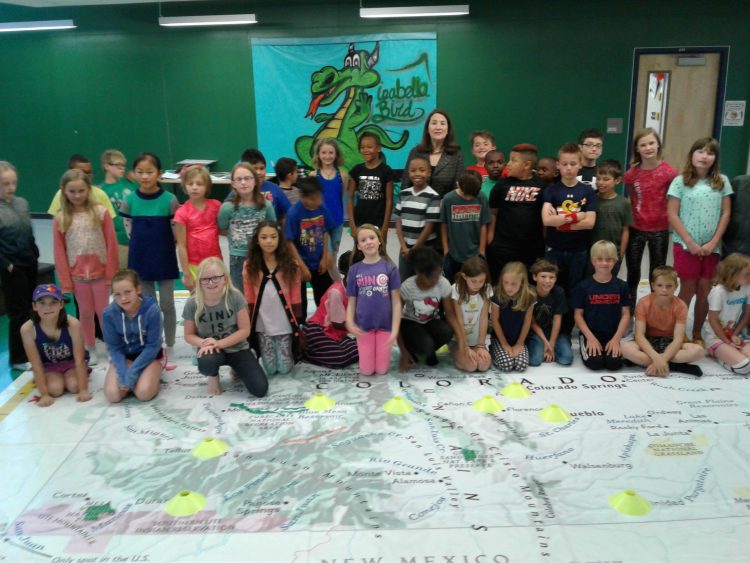 A giant map of Colorado has been used to help show the locations of rivers, mountains and cities. But new research shows promise for the map to develop math and spatial skills for elementary students.
The Giant Map of Colorado, a 21 foot-by-14 foot vinyl map of the state, has traveled to more than 150 schools in the last 14 months and was a featured topic at the June 2017 CU Board of Regents meeting. The map is maintained by the Colorado Geographic Alliance at UCCS after it was provided by the National Geographic Society.
A grant from the National Center for Research in Geography Education provided funding for new research in how giant maps could be used to teach math skills. Fourth grade classrooms in Colorado and New Hampshire were allowed to borrow the maps of their respective states for two weeks, with one week for regular instruction in geography and history, and the second week for math.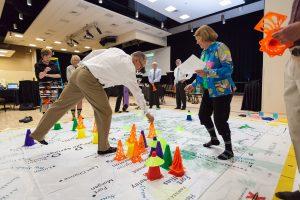 More than 150 fourth graders took part in five activities focused on math skills. Students were evaluated on skills in distance, direction, area and perimeter, grids and coordinate systems, and scale. Scores improved by an average of 9.5 points across all five skill areas with the largest gains in direction, and grids and coordinate systems.
Steve Jennings, associate professor, and Rebecca Theobald, assistant research professor, Department of Geography and Environmental Studies, joined Peter Anthamatten, associate professor, Department of Geography and Environmental Sciences at the University of Colorado Denver, and Lara M. P. Bryant and Beverly J. Ferrucci from Keene State College in Keene, New Hampshire, in their analysis. The team noted the size of the maps made it more accessible to some students to understand map skills as they physically moved around the area.
"Whereas having something fun and intriguing for students is worthwhile, demonstrating that students improve their understanding of spatial-thinking skills—while learning fundamental mathematics skills—provides some justification for the teachers' effort and time required to engage with the giant maps," wrote the researchers in their conclusion. "Schools, districts, and educational organizations can draw from research on the giant maps to make informed decisions about curriculum implementation and funding."
The team's article, "Giant maps as pedagogical tools for teaching geography and mathematics," was published online Feb. 1 in the Journal of Geography. UCCS faculty, staff and students can view the full text on-campus or through the virtual private network with the subscription through Kraemer Family Library.