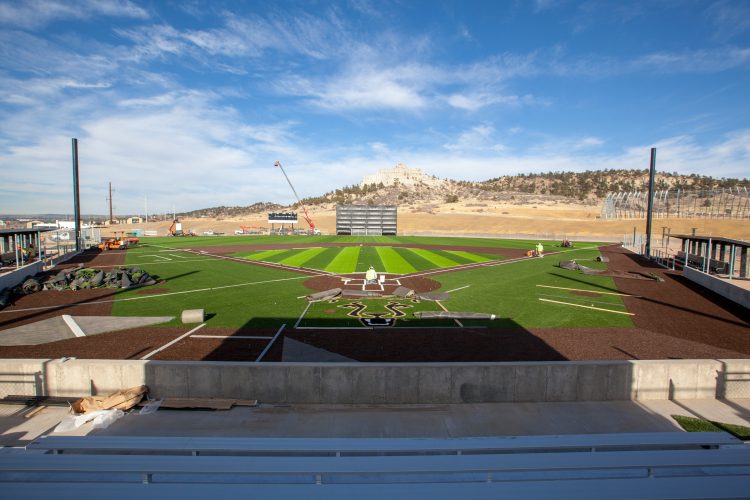 Construction on the new baseball field and indoor track facility is on time and on budget, according to Nathan Gibson, director, Athletic Department.
"We have dreamed of these facilities for many years – to see them come to life has been incredible," said Gibson. "Both facilities will be premier collegiate facilities and will serve the campus and community in ways we've never been able to until now."
The baseball field, Mountain Lion Park, is projected to be ready in time for the first home baseball game happening Feb. 16. A grand opening is scheduled for March 2.
Mountain Lion Park is an all-artificial turf field with batting cages, press box and seating.
The ribs on the indoor track facility, Mountain Lion Fieldhouse, have been installed. The fieldhouse will feature a wide-radius 200-meter, six-lane flat track with an eight-lane, 60-meter straightaway inside the oval.  The fieldhouse is expected to be completed later this spring.
The project budget is $13.3 million for the two facilities.
"I cannot wait to watch our student-athletes compete in these venues and do so in one of the most beautiful settings in the country," said Gibson.
Bryan Construction is the general contractor for the facilities and DLR Group is the architect of record. The complex has been designed for continued expansion and development in the future. Phase two of the baseball field will likely include lights, a locker room and cover for the batting cage.