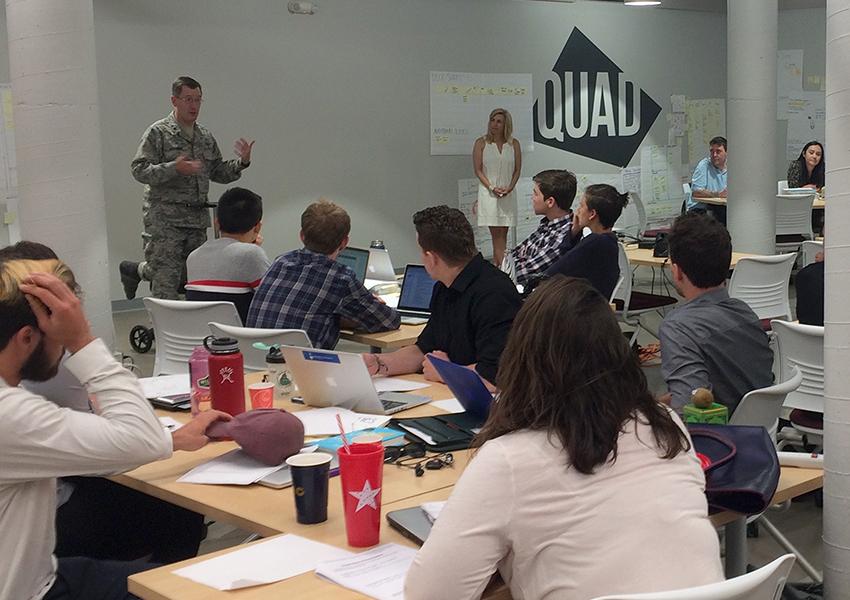 Faculty and staff who know students and recent graduates interested in developing solutions for local needs are encouraged to recommend the spring projects offered by the Quad Innovation Partnership. Accepted students will work with others from Colorado College, the U.S. Air Force Academy and Pikes Peak Community College.
The Quad Innovation Partnership work with local government and businesses on real-world projects that require innovative solutions. The program recently moved into dedicated space in downtown Colorado Springs for enhanced collaboration and as a home for events and classes.
The current projects include:
Social Service Access. Deadline Jan. 22. Stipend $1,200. Build, validate and test a new social enterprise model to improve access to social services in our region for El Paso County and the City of Colorado Springs.
Social Impact Marketing. Deadline Jan. 22. Stipend $1,200. Janska Clothing positively impacts the physical and emotional wellbeing of individuals with limited mobility. Work alongside their CEO to launch a new product line.
Internet of Things: DataCore. Deadline Feb. 1 Stipend $980. Altia is working to give more data control to smart-device manufacturers and users. Work alongside their CEO to build a demo and sales package for their new product: DataCore.
Additional information on each project, as well as application forms, can be found at quadcos.org/programs.
The Quad Innovation Partnership is an initiative of Colorado College, Pikes Peak Community College, the University of Colorado Colorado Springs and the United States Air Force Academy to support innovation and career development in the Pikes Peak region. Unlike other entrepreneurship and innovation centers, which focus on incubating companies and technologies, the Quad Innovation Partnership incubates talent and leadership. The program is supported by the leaders of the four institutions, Jill Tiefenthaler, president, Colorado College; Lt. Gen. Jay B. Silveria, superintendent, U.S. Air Force Academy; Lance Bolton, president, Pikes Peak Community College; and Venkat Reddy, chancellor, UCCS.