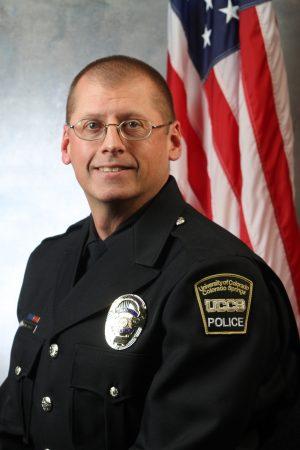 The mystery of a series of car burglaries and a car theft is solved.
UCCS Police Detective Martin Toetz recently closed files on six cases involving "smash and grab" crimes from cars parked on campus as well as the theft of a car belonging to a university staff member.
"Everybody is in jail," Toetz said.
In early October, UCCS Police issued a warning to the campus about the thefts, urging motorists to take precaution such as locking doors and putting items in trunks. Toetz believes the thieves targeted UCCS because of the volume of cars on campus as well as the likelihood that items like laptops, backpacks or textbooks were inside.
"A lot of times, criminals just walk up and down rows of cars lifting door handles," Toetz said. "When they find one that's open, it's like a jackpot to them. They'll take anything from a backpack to spare change. That's just too easy."
Toetz used surveillance camera video from Alpine Garage, as well as cooperative relationships with Pikes Peak Community College, Colorado Springs Police Department and Fountain Police Department, to close the cases. Some of the UCCS break-ins were connected to cases in other departments.
"There was one case where I showed another detective pictures we had of two suspects leaving Alpine Garage," Toetz said. "His response was 'hey, I know those two.' "Both of them are now facing parole revocation hearings after confessing to several burglaries."
In another case, a car stolen on campus was connected to a man suspected in leading New Mexico police on a high-speed chase that resulted in the death of a retired police officer. That man is awaiting trial on charges including homicide.
For Toetz, solving the cases brought personal satisfaction. He hopes solving the cases also brings peace of mind to faculty, staff and students and serves as a reminder to lock car doors, put valuables out of sight and to report anything suspicious to police.
To report suspicious activity, contact UCCS Police, 255-3111.