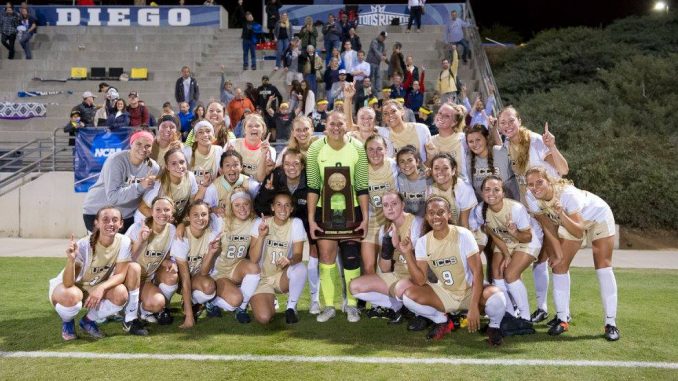 Editor's note: UCCS fell 2-1 in the national semifinal to Carson-Newman Nov. 30. The Mountain Lions finished the best season in program history with a 17-5-1 record.
UCCS will make its first national semifinal appearance in any sport Nov. 30, when the women's soccer team takes on Carson-Newman University in Kansas City, Missouri. The Mountain Lions and Eagles kick off at 10 a.m. MST at Swope Soccer Village.
The NCAA will produce a live video stream of the game. Clyde's will open early at 10 a.m. for fans to enjoy the game on campus. Complimentary appetizers and the full kitchen menu will be available at halftime.
The Mountain Lions are 17-4-1 and advanced to the semifinals after a 4-3 penalty kick decision against the University of California San Diego in the national quarterfinals Nov. 19. Carson-Newman is unbeaten this season at 20-0-1 with shutout victories in 10 of its last 11 wins.
The semifinal appearance marks the deepest national run for any UCCS team, and the guaranteed top four national finish will be the highest for any program. Women's cross country held the previous best finish with a seventh-place performance at the 2006 national championships. In sports that use a bracket, women's basketball and softball were among the final 16 teams in the nation in 2015 and 2004, respectively.
The winner of the UCCS and Carson-Newman game will face the winner of the University of Central Missouri and Mercy College at 11 a.m. MST Dec. 2 in the national championship game. It will be the first women's soccer national championship for any of the four teams.
Related Articles