Editor's note: This is the fourth in a series of faculty profiles highlighting the diverse and innovative faculty at UCCS.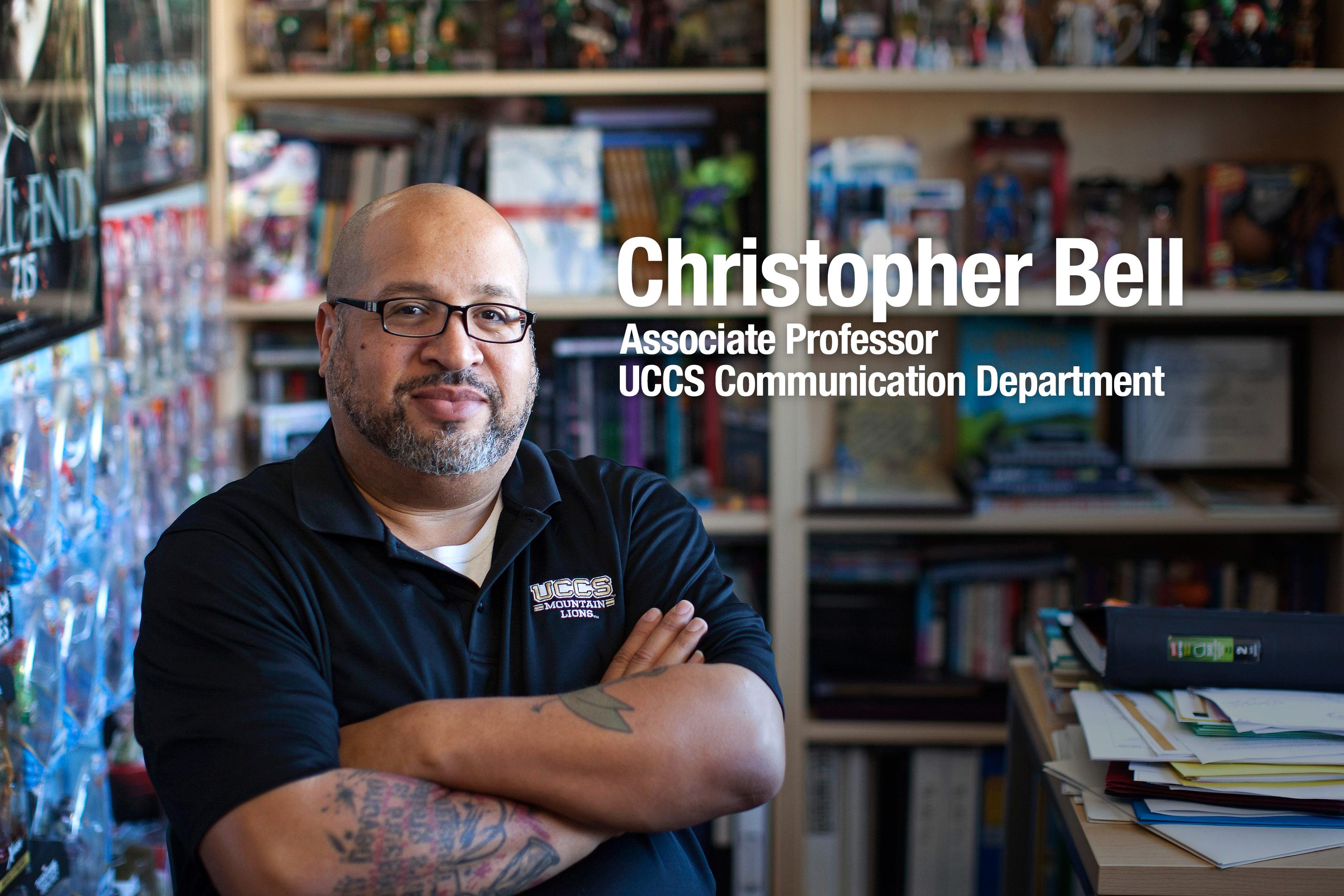 Christopher Bell grew up with friends living on the same block, attending the same schools and going to the same events, but they all turned out to be vastly different as adults.
"Different careers, different lives. But also completely different ways of seeing the world, which makes me wonder how they could see it the way they do when we all basically came from the same places and spaces," Bell said.
His curiosity turned into a career. As an associate professor of media studies at UCCS in the Department of Communication, he studies how popular culture influences the adults we become.
He specializes in how race, class and gender are reflected in children's media.
Toys, books, TV shows, movies and music have embedded messages, teaching kids about themselves, the world and their role in it.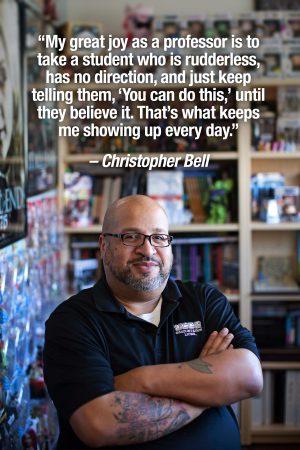 Bell, who joined UCCS in 2010, wanders toy aisles researching how gender is reflected on shelves. He's upset by what he often hears like kids being told a boy can't get a doll because it's for girls or that girls shouldn't play with trucks.
"I can't tell you how many times I overhear parents saying something that they think is probably useful to their kids that is absolutely awful," he said. "What makes them happy is what they should play with."
Bell, 43, is a diversity and inclusiveness consultant with Pixar Animation Studios and with several universities. He's written five academic books on popular culture, four of which pull from "Harry Potter."
He's sometimes surprised this is his life. In high school, he thought he'd design wedding dresses. He spent the early years of college adrift, dropping out of four schools, switching majors seven times.
"If today I knew me when I was going through all of that, I would be like, 'I don't know if that kid is going to make it.' It was a rough road for me," Bell said.
A history professor changed everything.
His junior year at the University of Northern Colorado, Joan Clinefelter became his mentor, often checking in with him. It was the first time he felt someone at the school truly cared about him.
Clinefelter sensed Bell needed to connect with someone, so she reached out. He flourished.
"It is the Chris Bells that make teaching such a pleasure and so rewarding," she said. "But the credit for Chris' success? That goes entirely to Chris."
Bell received a bachelor of arts in social sciences in 1998 from UNC; a master of arts in television, film and new media studies in 2000 from San Diego State University; and a doctorate of philosophy in mass communication in 2009 from CU-Boulder.
Bell, who is also director of graduate studies, still keeps in touch with Clinefelter 20 years later. He tries to repay what she did for him.
"When I tell a student I'm going to mentor them, I mean it like forever. There are students who graduated three or four years ago who I still talk to on a weekly or daily basis," he said. "Until they're where they told me they want to be, I'm not done."
"Dr. Bell has literally changed my life"
Bell guided M.J Arjomandi through graduate school to becoming a UCCS communication instructor last year. Arjomandi was hooked when Bell give a guest lecture on how "The X-Men" serve as social commentary for the civil rights movement.
"My mind was blown," he said. "I recall leaving that class and immediately calling a friend to tell him all about it."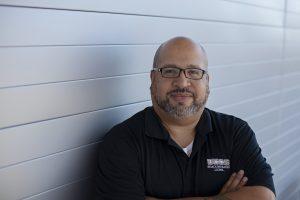 Bell challenged him more than ever academically. When Arjomandi became a graduate teaching assistant, Bell helped him learn his way around the classroom.
"Dr. Bell has literally changed my life," he said, "and if I can ever do for another student what he has done for me, I would consider my career to be a very successful one."
Bell hopes his work helps fade out the idea of "toys for girls" and "toys for boys." Labeling them teaches children forced gender roles, shaping how they see themselves and others. It can create a culture that leads to bullying—or worse.
Bell tells the story of a Florida boy who attempted suicide at age 11 after schoolmates repeatedly ridiculed him for liking "My Little Pony." He suffered extensive brain damage.
"That's a tragedy we should all feel as a tragedy, and we should all feel responsible for that happening. That's a societal failure," Bell said. "It reaffirms the work I'm doing."
His research shifted more to gender when he became a father.
He wanted insight into the world his daughter would be navigating.
Now 11, she's always encouraged to express herself through play. A fan of "Star Wars" and comic books such as "Guardians of the Galaxy," she enjoys playing both female and male characters. But Bell could hardly find any female superhero stuff for her a few years ago.
In 2015, Bell highlighted gender inequality on toy shelves in the TED Talk "Bring on the female superheroes!" When it reached 5,000 views, he thought it was "the coolest thing ever."
Today, it has more than 1 million hits, and female superhero merchandise abounds.
"I like to think I made that happen in some small way," said Bell, whose office is filled with 200 toys, many of which are female superheroes.
###
— Photos by Anslee Wolfe
Read earlier faculty profiles in this series here:
Faculty profile: It's all about people for Rod Walker: instructor combines policing, teaching
Faculty profile: For Janel Owens, science is better when told through stories
Faculty profile: Being a librarian is about more than books for Tabby Farney