Students, faculty and staff are invited to a pancake dinner 6-8 p.m. Sept. 29 in Berger Hall in support of hurricane relief.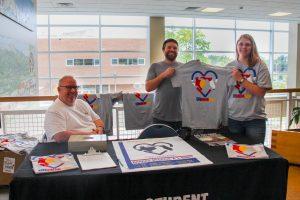 Audrianna Gilmore, community service and civic engagement coordinator, Office of Student Activities, organized the fundraiser.
"Our office received an influx of questions on how to help after all the devastation caused by the hurricanes," said Gilmore. "I wanted to do something to bring the community together while helping those affected and that's when the pancake dinner idea formed."
Community members can donate any amount to attend the pancake dinner. Donors also receive a t-shirt on a first-come, first-serve basis.
The Office of Student Activities will have a table from 10 a.m. – 12 p.m. Sept. 29 outside Berger Hall to collect donations and pass out t-shirts. Donations will also be accepted at the door.
The Red Cross will receive the donations in support of Texas, Florida, U.S. Virgin Islands and Puerto Rico.
To volunteer or donate, contact Audrianna Gilmore.