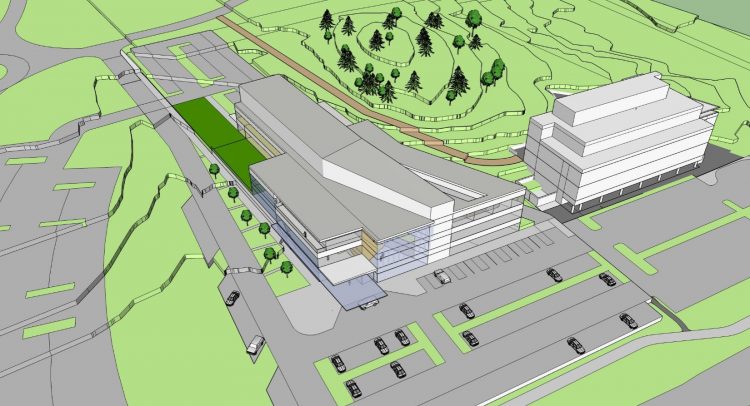 The University of Colorado Board of Regents approved $61.425 million in spending on Thursday to build the William J. Hybl Sports Medicine and Performance Center on the University of Colorado Colorado Springs campus.
The approval came at the regents' regular meeting at UCCS.
Pending approval from a Legislative committee in late June, UCCS will hire a design-build team for the project and begin construction in July 2018. The building is expected to open in December 2019.
"We're very pleased to have this vote of confidence from the Regents for the William J. Hybl Sports Medicine and Performance Center," said Chancellor Venkat Reddy. "The center will help solidify UCCS and Colorado Springs as key players in the fast-growing health and wellness arena. And with its state-of-the-art facilities, staff and programs, the Hybl center will prove to be a destination for students, faculty and health-care consumers."
UCCS is partnering with Penrose-St. Francis Health Services, part of Centura Health, on the project. Penrose-St Francis will be responsible for the Hybl center's medical and performance clinics, while UCCS will run all academic research and instruction in the facility, as well as provide leadership and some staffing to the performance clinics.
The Hybl center will be located north of the UCCS Lane Center for Academic Health Sciences on the east side of North Nevada Avenue, situated along Eagle Rock Road. The Hybl center will be across Eagle Rock Road from the university's Ent Center for the Arts, which is under construction and expected to open in early 2018.
Plans for the Hybl center call for a 104,000-square-foot building, roughly 18,000 square feet larger than the Ent Center for the Arts. The Hybl center building will cost $61.425 million, with another $3.5 million in infrastructure spending.
The Hybl center is a City for Champions project, intended in part to draw tourists to the Pikes Peak region. As such, some funding for the Hybl center will come from state sales tax increases. Under City for Champions requirements, the building had to be at least 72,000 square feet. UCCS and Penrose-St. Francis created a 104,000-square-foot facility to accommodate research, classroom and clinic space.
The Hybl center will offer a variety of clinical services, including orthopedic sports medicine, primary care sports medicine, physical therapy and rehabilitation, occupational therapy, athletic training, pain management, imaging, body composition and bone health services, performance training, occupational and tactical scenario training and altitude training.
The Hybl center also will support a host of UCCS academic programs, including the new exercise science degree program, which is expected to grow to 1,000 students. Enrollment in that degree program is a year ahead of projections and drawing interest from in-state and out-of-state students. Other academic instruction and research areas supported by the building include human anatomy; exercise, cardiovascular and muscle physiology; sports nutrition; body composition and bone health; and clinical outcomes.
The Hybl center will feature three Centers of Distinction:
The Center for Tactical and Occupational Performance, which will provide services to such occupations as military, police officers, firefighters and others.
The Center for Athletes and Active Individuals with Physical Disabilities, which will serve wounded military service members, para-athletes and others with disabilities.
The Environmental Health and Performance Center, which will address demands that athletes, members of the military and others face, including extreme temperatures, humidity, low oxygen and others.
"We are planning a one-of-a-kind building where clinics, academics and research collide to provide an interprofessional approach to develop future healthcare providers," said Jackie Berning, professor and chair, UCCS Health Sciences Department.
The Hybl center will be the fourth new UCCS project to be built along North Nevada Avenue. In addition to the 92,000-square-foot Ent Center for the Arts, a new baseball field and indoor track and field facility are expected to be constructed north of the Ent Center for the Arts.
The Hybl center is named after William J. Hybl, reflecting the longtime support of El Pomar Foundation as well as its support of the university's efforts to redevelop North Nevada Avenue. Hybl is El Pomar's chairman and chief executive officer as well as chairman of the United States Olympic Endowment.
The University of Colorado Colorado Springs, located on Austin Bluffs Parkway in Colorado Springs, is one of the fastest-growing universities in Colorado. The university offers 45 bachelor's, 22 master's and five doctoral degree programs. UCCS enrolls about 12,000 students on campus annually and another 3,300 in online programs. For more information, visit www.uccs.edu.