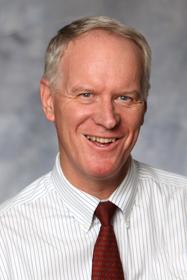 A longtime College of Business faculty member will serve as interim dean beginning July 1.
Eric Olson, director, Sport Management Program and professor of marketing, College of Business, will serve as interim dean while a permanent dean search is conducted. Tom Christensen, provost-elect, announced the appointment May 18.
"I am confident that Eric will be able to build on the solid foundation created under former Dean Reddy," Christensen wrote. "A variety of issues, including budget, revision of promotion and tenure criteria and the further development and refinement of excellent educational opportunities for students are among the issues that will be need to be addressed during this transitional year."
Olson replaces Cathy Claiborne, professor, College of Business. Claiborne was named interim dean Feb. 16 following the appointment of former dean Venkat Reddy as interim chancellor. Reddy was named chancellor May 8. Claiborne will retire June 30.
Since 2007, Olson has led the Sport Management Program in the College of Business. Previously, he served as associate dean, department chair and as a professor. He joined the College of Business in 1992 as an assistant professor, was promoted to associate professor in 1998, and professor in 2001. Prior to joining UCCS, he served as an instructor at the University of Minnesota, Twin Cities, and Bassist College, Portland, Oregon.
He earned a bachelor's degree from Lewis and Clark College, Portland, a master's degree from Portland State University, and Ph.D. from the University of Minnesota, Twin Cities.
He has taught graduate and undergraduate courses in management, marketing, marketing research and sales management and has 50 peer-reviewed journal articles or abstracts. His awards include the 2015 Chancellor's Award, the 2009 Faculty Award in Research and the College of Business Outstanding Faculty Member Award in 1998, 2001, 2006 and 2010.
A search for a permanent dean will begin this summer. George Reed, dean, School of Public Affairs, will chair a search committee. Christensen plans to announce other search committee members in the next few weeks.