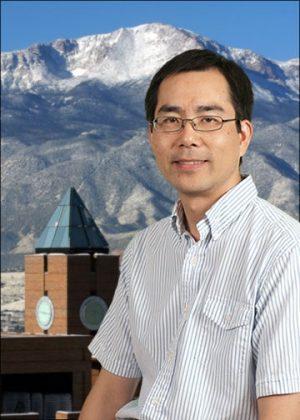 Xiaobo "Charles" Zhou, associate dean, College of Engineering and Applied Science, will serve as interim dean beginning July 1 and continuing while a search for a permanent replacement is conducted.
Terry Schwartz, interim provost, and Tom Christensen, provost-elect, announced Zhou's appointment May 15. He will succeed R. "Dan" Dandapani who served as interim dean or dean since 2008. Dandapani announced his plan to return to the faculty May 2.
"I am confident that Charles will be able to build on the solid foundation that the college built under Dean Dandapani's leadership," Christensen said. "The college's upcoming accreditation, continued growth of the research mission, further development of excellent educational opportunities for students and a range of other important issues will all need to be addressed during this transitional year."
Since January, Zhou has served as associate dean and professor of computer science. Previously, he served as chair of the Computer Science Department. In 2009, he was named associate professor. He joined UCCS in 2003 as an assistant professor. Before joining UCCS, he was a visiting assistant professor at Wayne State University, Detroit, Michigan, and a postdoctoral research associate and visiting scientist at Paderborn Center for Parallel Computing, Paderborn University, Paderborn, Nordrhein-Westfalen, Germany.
He earned bachelor's, master's and Ph.D. degrees from Nanjing University, China. His awards include the College of Engineering and Applied Science Outstanding Researcher of the Year Award, the National Science Foundation CAREER Award, and the UCCS Faculty Award for Excellence in Research. As a faculty member, he has generated about $3.8 million in externally funded research in areas such as cloud computing, network security, data centers and scalable Internet services.
Peter Braza, dean, College of Letters, Arts and Sciences, will chair a search committee charged with assisting in the search for a permanent dean. Other committee members will be announced in the next few weeks.
Related Post
Engineering dean to return to faculty; search begins