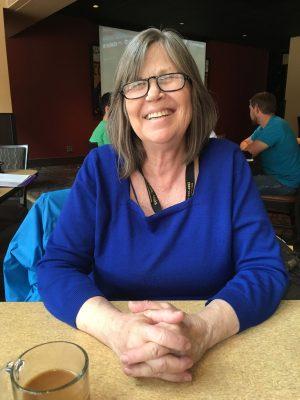 Carol Collins has worn many hats during her 65 years. They include entrepreneur, environmentalist, teacher, wife, mother, grandmother, cancer survivor and policy adviser to state government.
But it's the funny looking four-cornered hat worn by graduates that the spirited senior citizen thinks is the most important. Collins will join more than 1,000 other mortar-board-wearing graduates of the University of Colorado Colorado Springs at 2:30 p.m. May 12 at Broadmoor World Arena. Collins will earn a master's degree in public administration, a goal she kept in sight even as she faced some of life's most difficult challenges, including divorce, financial hardship, cancer and a heart attack.
"The mind is fine; the rest of me hurts," Collins said.
"But my mind is getting better than it was when I was younger," Collins said as she acknowledged other students by name in a campus restaurant. "I just keep using it."
Collins fully embraced her return to college, choosing to live first in a freshman-only residence hall and later in a hall with sophomore and junior undergraduate students. Sometimes, she had roommates as many as 45 years her junior.  She chose on-campus living both for financial reasons and because she wanted the traditional undergraduate college experience she missed while attending the University of San Diego and working in the late 1960s.
"It was on my bucket list," Collins said of living in a residence hall with 18-, 19- and 20-year-olds. "I decided if I was going to go to school, I was going to live on campus and focus on the education with no distractions. I had a choice. I could live in an old folks home with people older than me or I could live with young folks who are vibrant and creative. I chose to do the latter."
Collins said she found younger students to be polite, helpful and friendly. They sought her advice and she freely gave it, whether the subject was a personal or professional. She also found her faculty to be supportive, particularly Terry Schwartz, interim provost, and previously the dean of the School of Public Affairs. She also cited George Reed, dean, School of Public Affairs; Don Klingner, distinguished professor; Edin Mujkic, assistant professor; Regina Winters, instructor, and Mark McConkie, professor emeritus.
"I'd tell students 'It's really ok. You're not a lone ranger. Everybody is going through the same thing you are,'" Collins said. "I also tell them it's Ok to make mistakes. We all make mistakes. They're all learning experiences."
And while she believes younger students benefitted from hearing about her life experiences, she knows she benefitted from the students. Being surrounded by young people, and believing that many of today's jobs will not exist in a decade, motivates Collins to think about entrepreneurship, technology and workforce development.  She plans to continue toward a Ph.D. in the UCCS College of Education, to finish work on patents dormant for decades, and to write books explaining math and science that more closely resemble a graphic novel than traditional text book.
But first, there will be a pause for celebrating.  Two adult sons and their families, as well as Collins' younger brother, will cheer as her name is called and she crosses the stage.
"As I was going under for surgery, I had a thought," Collins said. "It was, 'I'm not done yet.' "And I'm not."
Other Commencement Features