For Mykinthia Ebron, challenges only fuel her successes.
Some of her biggest challenges came early in life. Ebron's mother died when she was 9. Ebron spent time in foster care and was raised by her aunt and uncle.
"My mother told me to never stop chasing my dreams, and I haven't stopped since," Ebron said.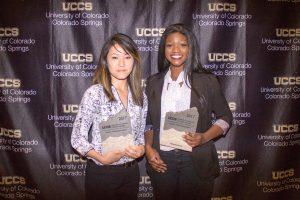 Indeed. That dream-chasing will bear fruit on Friday, when Ebron becomes the first in her family to earn a degree. The pre-law senior will walk across the stage at the Broadmoor World Arena during UCCS commencement ceremonies, then move on to law school. She's still deciding where to enroll in the fall.
During her time at UCCS, Ebron was awarded the UCCS Student Achievement Award, elected president for the Black Student Union and elected Student Government Senator for the College of Arts, Letters, and Sciences.
Her time as a college student wasn't without its stresses, though. When the prospect of trying to pay for her final year of school loomed large, Ebron went to the counseling center for help. She was surprised to learn that a session required payment. That spurred Ebron into action. She met with the director and, as a student government senator, proposed a bill to make the resource free for students.
"I have found her to be an incredibly intelligent, articulate, and approachable leader who has made a lasting contribution to the quality of student life at UCCS," said Brad Bayer, senior executive director, Student Life and Leadership.
"I have no doubt that Mykinthia will take on the post-graduation world as she has taken on everything else, with passion, vision and integrity," said Sabrina Wienholtz, director of student clubs, organizations and leadership, Student Life and Leadership.
Ebron said her mother offered her two other pieces of advice, too: listen to your aunt and uncle and go easy on the sweets.
As for the sweets? Ebron admits she wasn't entirely successful on that front.
"In fact, anyone who knows me can tell you just how much I love cookies."
It's her mother's advice to chase her dreams that will always endure, Ebron said. Ebron plans to make sure everyone knows that when she delivers the commencement address during the Friday morning ceremony.
"I'd like to say, dear Mom: I know you said never stop chasing your dreams. I'd like to say today we've caught one."
Other Commencement Features