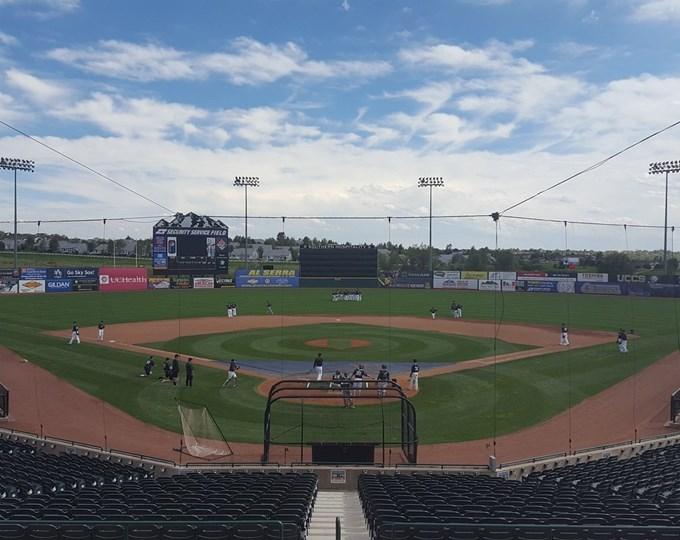 The UCCS baseball team will finish its first regular season with a game against the United States Air Force Academy in a single, nine-inning game at 6 p.m. May 2 at Security Service Field, home of the Triple-A Colorado Springs Sky Sox.
Tickets for all fans are $5, but the stadium will offer its other "$2 Tuesday" specials from the Sky Sox promotion schedule for parking and beverages. Tickets are available for purchase.
"The Sky Sox are proud to be hosting two great college programs at Security Service Field for a contest that is sure to be a thrill for fans, students, alumni and residents of Colorado Springs," said Sky Sox President and General Manager Tony Ensor.
The game will be the first meeting between the only two collegiate baseball teams in the Pikes Peak region. UCCS is in its first season in program history and in position to qualify for the 2017 RMAC Tournament. Air Force is 13-27 overall and in sixth place in the Division I Mountain West Conference. UCCS will be the home team for the game.
"This game will serve as a great opportunity for our student-athletes and fans to experience professional-level facilities and operations," said Nathan Gibson, executive director, Athletic Department. "The Sky Sox have been incredible partners with us as we launched our baseball program, and this game is another commitment to that partnership."
UCCS Head Coach Dave Hajek will be back at Security Service Field where he played for the Sky Sox in 1999 and served as hitting coach in 2013 and 2014.
UCCS will play a four-game series with Colorado State-Pueblo in the final series of the conference schedule April 28-29. The game against Air Force will lead into the team's conference bye week before the start of the RMAC Tournament May 10 in Grand Junction. The Mountain Lions need at least a split this weekend to clinch a spot in the tournament.