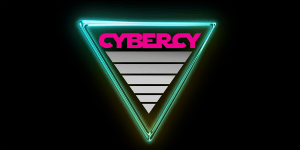 An exhibition exploring how the Internet affects perceptions of public and private spaces, as well as how people navigate the real, the digital, and the hyper-real opens May 5 at the UCCS Galleries of Contemporary Art downtown GOCA121 gallery, 121 S. Tejon St.
Cybercy features artists Signe Pierce and Alli Coates of New York and Los Angeles, Chris Coleman and Laleh Mehran, Denver, and Los Angeles artist collective Finishing School. Caitlin Goebel, in collaboration with Daisy McGowan, director, GOCA, is the exhibit curator.
A free public reception featuring a performance of Finishing School's "Psychic Barber" will be 5-9 p.m. May 5.
About the exhibit, curator Caitlin Goebel writes:
"Nearly thirty years after the Internet permeated our global consciousness, our fate as digital citizens is clearly inescapable. The intangibility of our digital idiosyncrasies begets a need to align both our avatars and our in real life selves. Through reflexive performance and self-fulfilling prophecy we secure our roles in a virtual condition – a cybercy."
The exhibit will be on display through June 24. Gallery hours are noon to 5 p.m. Wednesdays through Saturdays, or by appointment.
Multiple events are planned throughout the exhibit, including pre-opening Artist Talks with Pierce, Coates,  members of the Finishing School Collective, Goebel and McGowan from 7 p.m. to 8:30 p.m.  May 4, and with Coleman and Mehran from 5:30 p.m. to 6:30 p.m. June 2.  Additional events include a Chit Chat on the topic of absinthe  and trans humanism  June 9, and GOCA's Brilliant art party June 24. See the GOCA website for additional details. All events are open to the public.
About the Exhibition
American Reflexxx is a short film directed by Coates that documents cyber-feminist performance Pierce as she struts down a busy street in Myrtle Beach, South Carolina. The unscripted social experiment resulted in a heart wrenching technicolor spectacle, and a cinematic critique of gender stereotypes, mob mentality, and how suggestions can quickly become truths.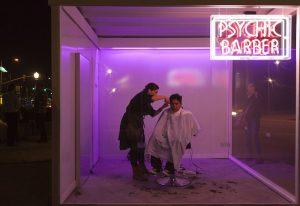 Psychic Barber is a collaboration between Los Angeles-based artist collective Finishing School and New York based artist Yucef Merhi, an interactive installation that conjures intimacy and transformation in a private setting situated in a public space. Enclosed in a glass-walled structure, hairstylists who also possess a psychic gift will cut and style participants' hair based on insights gained via the experience of a psychic reading. Originally presented as part of Side Street Projects, and then later at the Riverside Art Museum, a third installation with planned performances at GOCA moves the project into an antecedent loop of projection and performance on a national scale.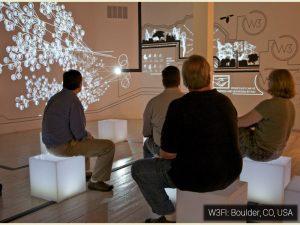 W3FI: Colorado Springs  Denver-based artists Coleman and Mehran's large scale installation is a social movement, a philosophy, a path to responsible connectivity between online/offline lives and to each other, complete with a project manifesto. The W3Fi installation, which has been exhibited nationally and internationally, is reimagined for each iteration, making it at once site-specific and archival, a tangible model of the Internet. W3FI: Colorado Springs merges physical place and perspective with digital actions. Coleman and Mehran articulate the human position of standing on the threshold between IRL and digital life.
About the Artists
Finishing School  Established in 2001, Los Angeles-based Finishing School is a socially engaged artist collective that playfully explores an expansive range of subject and media territories at the many intersections of art, play, power, politics, praxis, participation, and the everyday. The collective has five members who represent a broad range of skills and research interests: Nadia Afghani, Matt Fisher, Ed Giardina, Jason Plapp, and Jean Robison. Yucef Merhi, collaborator on the Psychic Barber project, is based in New York City. Finishing School produces interdisciplinary actions, installations, workshops, design, publications, film, studio art, performance and new media.
Signe Pierce is based in New York City and Los Angeles. A self-dubbed reality-artist, Pierce works across performance, photography, video art, GIFs, and web–based art, investigating gender, identity, sexuality, and the perception of reality within a digital society. Pierce received her BFA from School of Visual Arts, New York.
Alli Coates is a multimedia artist based in New York City and Los Angeles. She has been dubbed a "Creative Ninja" due to her flexibility across media: photography, video art, print design, window installations, web design, and art direction. Coates grew up in Manassas, VA, and graduated with a BFA from George Mason University. Her photography and design work have appeared in Vogue, W, Dazed and Confused, VICEMagazine, GQ, New York Magazine, Complex, and ELLE.
Chris Coleman has an art practice that spans control systems, chaos and order, digital interaction, physical interaction, borders, animation, appropriation, technological decay, art as activism, audio/video manipulation, systems in nature, and object creation. Coleman received a BFA in sculpture from West Virginia University where he also spent a number of years studying mechanical engineering, and MFA at SUNY Buffalo specializing in interactivity and real-space electronics. He is a faculty member at the University of Denver in the emergent digital practices program.
Laleh Mehran has an art practice that engages with the intersections of art and science, media politics, Eastern and Western philosophies, and emerging forms of time-based media. Mehran's work has manifested as interactive installations, videos, and performances. Mehran received a BFA in creative photography from the University of Florida, and an MFA in electronic time-based media from Carnegie Mellon University. She is currently graduate director in emergent digital practices at the University of Denver.