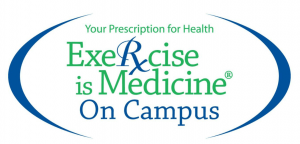 An Exercise is Medicine on Campus program at UCCS was recently awarded gold status by the Exercise is Medicine on Campus Advisory Group of the American College of Sports Medicine.
A team of UCCS faculty and staff led by Jess Kirby, senior instructor, Helen and Arthur E. Johnson Beth-El College of Nursing and Health Sciences, will accept the award May 31 at the American College of Sports Medicine meeting in Denver.
Other team members include: Vicki Schober, physician medical director, Wellness Center Health Services; Katie Gordon, wellness promotion coordinator, Wellness Center; and health sciences students Cynthia Lewis, Andrea Phifer, Kimberly Humphrey, Ryan Shroyer and Meghan Dornan.
Exercise is Medicine on Campus is a program that calls on universities and colleges to promote physical activity as a vital sign of health. The program encourages faculty, staff and students to work together to improve campus health and well-being by making movement a part of the daily campus culture. The program requires assessing physical activity at every student health visit, providing students tools necessary to strengthen healthy physical activity habits and connecting health care providers with health fitness specialists to provide a referral system for exercise prescription.
Visit the organization's website for more information.