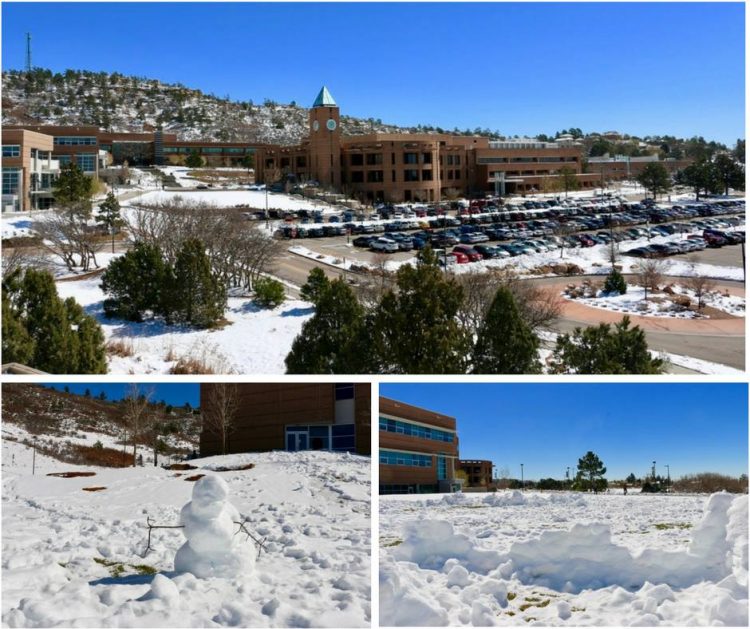 A late spring storm dropped between six and eight inches of wet, heavy snow on UCCS April 3 and 4, closing campus and giving most faculty and staff a day of administrative leave.
But for staff essential to the operation of campus – primarily members of the Department of Public Safety and Physical Plant – the storm meant a long day.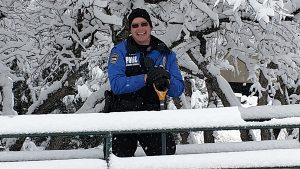 Physical Plant staff arrived on campus at 4 a.m. April 4 and put every available piece of campus equipment into service, according to Rob Dougherty, senior executive director, Physical Plant Department. By 6:30 a.m., the snow measured 6.5 inches and continued to fall. Another 1.5 inches fell before the storm passed by mid afternoon April 4. The snow provided a playground of sorts for students who got an unexpected day off. The campus was dotted with snow figures as well as sled tracks.
"With the increased moisture of a spring snow, the time it takes to remove it increases by 35 percent," Dougherty said. "But the moisture was welcome. We needed it on campus."
The decision to close campus until noon April 4 was announced at 5:30 a.m., according to Tim Stoecklein, program director, Emergency Management. By 9:45 a.m., as snow continued to fall and with widespread reports of downed power lines in some parts of Colorado Springs, a decision to close campus for the day was announced. Closure announcements were sent by email, text message, posted to the campus website and alerts page, to social media and shared with broadcast and print media outlets.
In addition to closing campus, the storm caused minor damage to a dozen trees. The snow's weight caused limbs to break.
After a mild winter, this is the second spring storm to hit campus. A March 24 storm closed campus for the morning.
— Photos and video by Savannah Waggoner and Tim Stoecklein