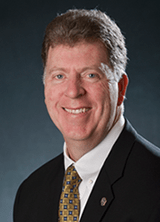 A 15-member committee assisting CU President Bruce Benson in the search for a new UCCS chancellor will interview candidates the week of April 10 in anticipation of chancellor finalists visiting campus the week of April 24.
Leonard Dinegar, senior vice president and chief of staff, Office of the President, and chair of the UCCS chancellor search committee, provided an update on the search following the committee's April 3 meeting.
Dinegar said a select group of candidates will be interviewed by the search committee the week of April 10. The committee will then forward the names of the top candidates for CU President Bruce Benson to consider. Benson is expected to select finalists from that group and will share names and vitas with the campus community and media the week of April 17.
During the week of April 24 and potentially into the week of May 1, finalists will visit to meet with faculty, staff, students and community members in a series of meetings on campus. Announcements about the schedule of public meetings will appear in Communique and by campus email. Following the meetings, campus and Colorado Springs community members will be asked to complete an online candidate evaluation form for each finalist. This feedback will be provided to President Benson. Benson said he hopes to name a permanent chancellor by this summer.
National executive search firm DHR International is assisting with the search.
In January, Benson announced a search committee and charged it with assisting in recruiting, reviewing and recommending candidates to replace Pam Shockley-Zalabak. Shockley-Zalabak served as chancellor for 15 years and had more than 40 years of service to UCCS when she retired from the university Feb. 15.
Venkat Reddy, formerly dean of the College of Business and associate vice chancellor, now serves as interim chancellor.
Related Post