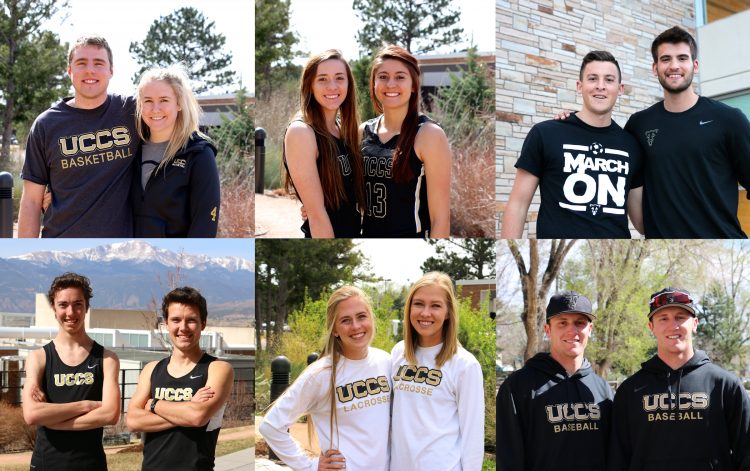 (Updated April 19)
Plenty of college students wouldn't consider going to the same university as their sibling, yet alone play the same sport. But for six sets of sibling athletes at UCCS, family ties extend to the playing field.
UCCS has 12 student athletes in six sports – men's basketball, women's basketball, men's soccer, men's cross country, women's lacrosse, and baseball – with a sibling who also is an athlete.
"It is rare to have siblings compete at any level, let alone at the college level of athletics.  It is great to see those student athletes siblings compete as Mountain Lions and get to have that experience for them and their extended family to share together," said Nate Gibson, athletic director.
Tim and Maria Haas 🏀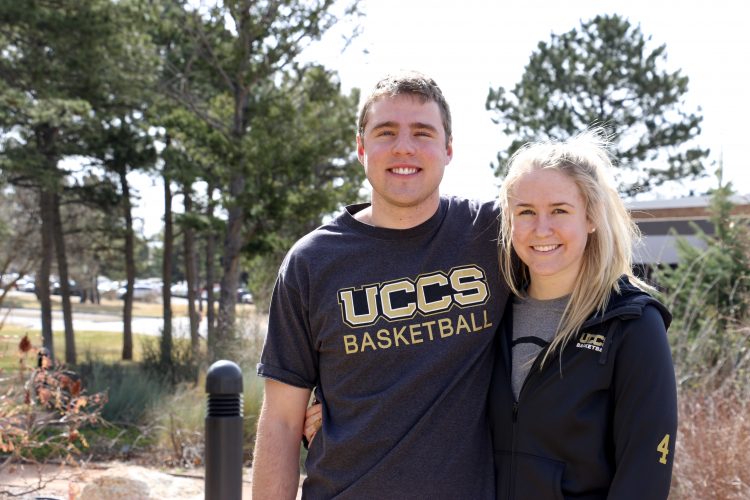 Tim Haas, business senior, was the main reason his little sister, Maria Haas, secondary education sophomore, came to UCCS from their hometown of Centennial. The siblings have been playing basketball since the third grade and now play for UCCS.
"Tim's leadership, positive attitude and commitment to the sport has influenced me a lot over the years," Maria said. "I didn't know about UCCS until he enrolled."
Tim spent his freshman year at Colorado State University, but missed playing basketball. After contacting the athletic department, he walked on for the 2013-14 season.
"I am fortunate to be here, it's not often you get to play at a Division II school after not playing for a year," Tim said.
During the 2013-14 season, the Mountain Lions won their first playoff game in program history, advancing to the RMAC Shootout Championship game and qualifying for the NCAA Division II National Tournament.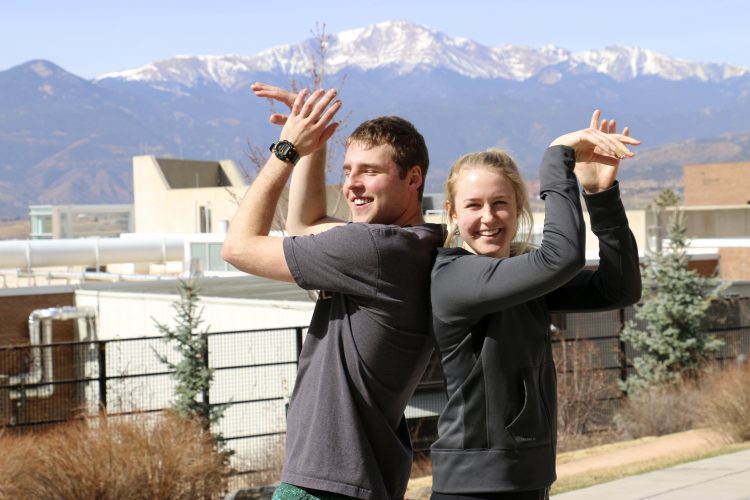 "After doing so well my first year, I wanted to help portray the vision of winning," Tim said. "Now that I'm a senior, I'm enjoying the year and trying to make the most of everything."
"Tim's a leader on and off the court," Maria said. "He's uplifting and a huge role model, it's such a blessing to have him here."
This season, the women's team won the Rocky Mountain Athletic Conference Championship for the first time in program history, while the men fell short in the RMAC quarterfinals. Their parents make it to every home game.
Maria said the school and team have brought her full circle. "I'm having a great experience because of friends, roommates and coaches."
The siblings do their own thing most of the time, but their time together at UCCS has brought them closer. "We cheer each other on at games, and I will miss his friendly face on road trips," Maria said.
Jen and Kristen Vigil 🏀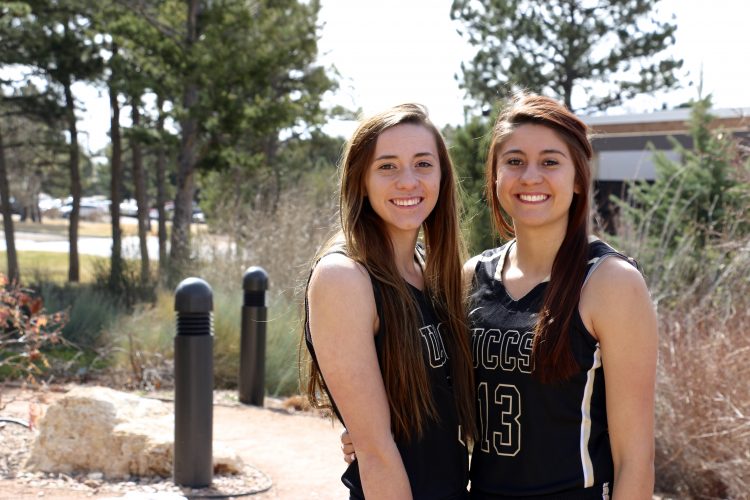 Having a sister on the court is a huge advantage, according to Jen Vigil, communication senior, and her younger sister, Kristen Vigil, pre-med freshman.
"We know whether one of us is going to drive or not, when to rebound and switch on defense without talking – we have that chemistry without having to play together for a couple of seasons," Jen said.
Jen initially planned to play at Iowa. When those plans fell through, she was worried she was out of options. After her senior all-star game, she received a call from UCCS. "I signed without even seeing the campus, but everything worked out perfectly."
The senior captain started every game this season, averaging 10.8 points per game and was awarded the RMAC Offensive Player of the Week in January. She scored 20 points with five assists and seven rebounds in her final career game.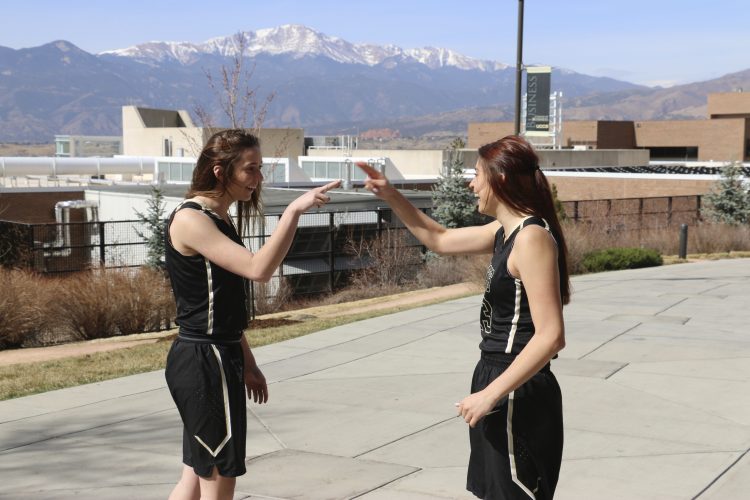 As with many sisters, Jen and Kristen occasionally argue, but they don't make decisions without talking to each other.
"Jen is a good leader, and I do listen to her even though she doesn't think so," Kristen said.
When it came time for Kristen to go to college, UCCS was hiring a new women's basketball head coach. During the interview process, Jen asked potential coaches whether they gave freshmen playing time. She wanted to be able to play with Kristen during her senior year.
Kristen enrolled at UCCS after talking with her sister and parents. Their parents make it to every game – even making a 10-hour trip to Texas. The sisters' hometown is Parker.
"College is hard, but Kristen reminds me it's still fun to play. She has so much energy and it's been great seeing her enjoy the game," Jen said.
During the last tournament game, Kristen led the bench, scoring eight points and averaging 4.3 points per game this season.
"This year wouldn't have been the same if she Kristen wouldn't have played," Jen said. "It's been a cool way to end the season with her here."
JJ and Dave Meyer ⚽️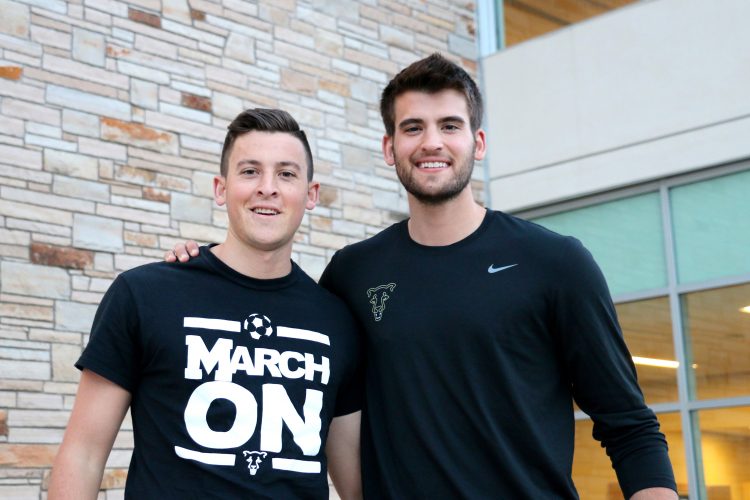 JJ Meyer, electrical engineering senior, aims to keep his younger brother, Dave Meyer, finance junior, down to earth after being awarded the Colorado Gatorade Player of the Year in high school.
The Colorado Springs natives have been playing soccer since they were little. The two would often practice with each other in the backyard, JJ as a midfielder and Dave as a goalkeeper.
JJ started at the University of Colorado Boulder but missed playing competitive soccer. He transferred to UCCS after his freshman year and got a spot on the soccer team.
During Dave's senior year of high school, he had offers from the University of Denver, Creighton University, and United States Air Force Academy. "I didn't want to commit knowing that I wouldn't have much playing time my freshman year," Dave said.
He was offered a full-ride scholarship from UCCS and was excited about being able to play with his brother again. "JJ works hard, he's a good person to be around and the fact that he's my brother is a plus as well," Dave said.
The brothers have lived together for most of their college career.
Although the two have different positions, they are able to talk about what they want the team to become.
"Dave has become a leader on the team," JJ said. Dave hopes to play for the Colorado Springs Switchbacks when he graduates.
JJ graduates this May. The brothers said that reality will hit next season, when they aren't playing together at UCCS.
Steven and Mark Simmons 🏃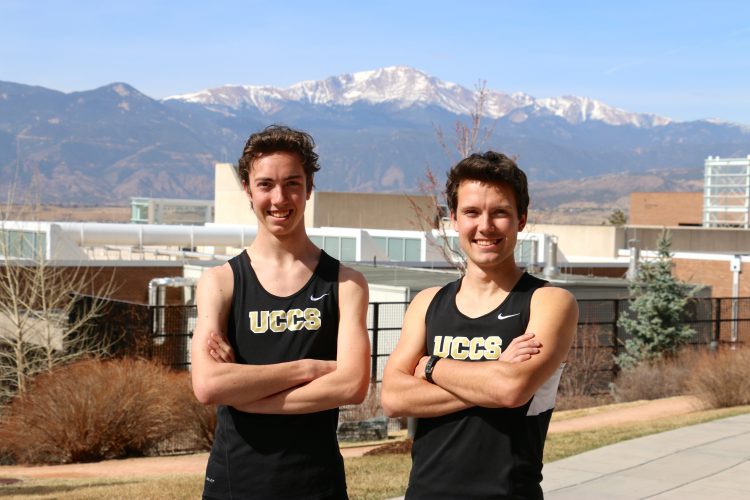 Growing up in the small mountain town of Tabernash, UCCS was the perfect fit for Steven and Mark Simmons.
Steven, mechanical engineering sophomore, was attracted to UCCS for its academics and small-town feel. He ran cross-country during high school and got the opportunity to try out for the team once he got to UCCS. "I was lucky enough to walk on to the team after I hadn't been running very long," Steven said.
After going to some of his older brother's meets and exploring the programs offered at UCCS, Mark applied to study chemistry and secondary education.
Mark had been running cross country for six years and tried out for the team. The brothers ran for the first time at UCCS this season after Steven redshirted his freshman year.
The brothers describe their relationship as similar to the television show "Drake and Josh."
"We hang out more than we thought we would," Mark said. "Steve gives me lots of advice, which is nice."
When they aren't running cross-country or training, the brothers ski, Mark practices archery and Steven works on restoring his '68 Camaro.
The brothers said they enjoy the campus environment. Steven appreciates having a mountain view, while Mark is happy about getting a science-specific degree with a teaching certificate.
Danielle and Jenna Oleson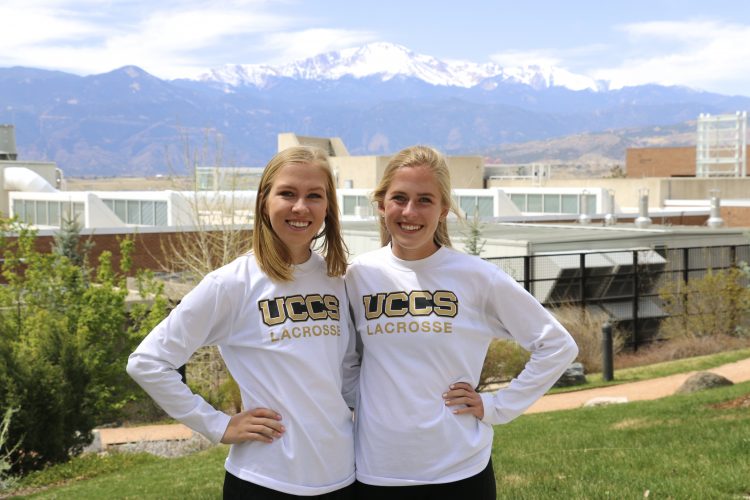 Being a part of a new lacrosse team was something twin sisters Danielle and Jenna Oleson looked forward to most when coming to UCCS.
"It's been exciting to be the first team here and making history," Danielle Oleson said.
The exercise science freshmen started lacrosse in eighth grade after watching their younger brother play.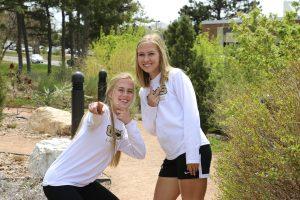 After playing at Fruita Monument High School, the twins and two of their teammates, Taylor Haller and Vanessa Nelson, joined UCCS women's lacrosse team.
"We have good team chemistry," Jenna said. "We can always find each other on the field and know what we're going to do."
The sisters are roommates on campus and spend most of their time together. "I'd be lost without her, I'm always asking her for guidance," Jenna said.
During the off-season, their family runs half-marathons – the two sisters even run together during the race.
UCCS women's lacrosse is one of ten teams in the Rocky Mountain Athletic Conference. They face the twins' hometown university, Colorado Mesa University, in their final game Saturday at home.
Bryan and Brant Chapin ⚾️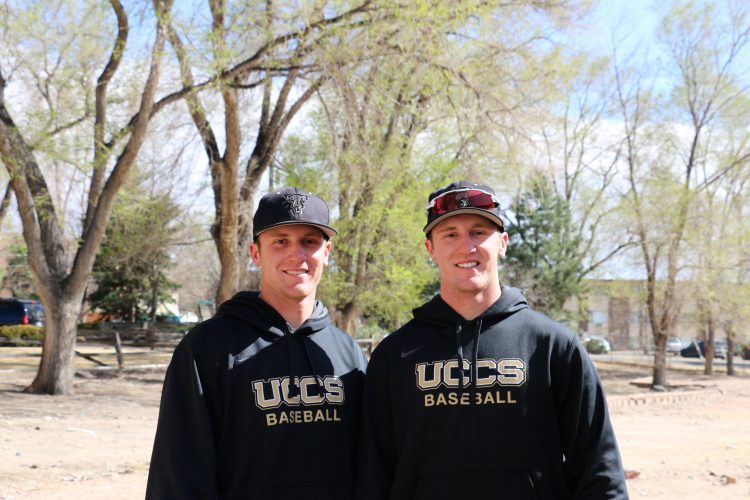 UCCS baseball began its inaugural season this year with identical twin brothers Bryan and Brant Chapin.
The criminal justice juniors both played at a junior college in Phoenix Arizona before making their way to Colorado Springs.
Their hitting coach in Arizona knew Dave Hajek, head coach, UCCS baseball, and suggested he watch the brothers play. "When he came to watch we ended up having a really good game and it worked out really good," Brant said.
The brothers have been playing since they were little and were always on the same team growing up.
"It's nice playing together – we help each other out and it's great playing with someone you really connect with," Brant said.
Although they are far from their hometown of Flagstaff, Arizona, they said Colorado Springs offers many similarities. The brothers said their family enjoys being outdoors to hunt and fish.
They said they are enjoying the inaugural season –  and look forward to next year, when another set of identical twins is expected to join the team.
— Photos by Savannah Waggoner