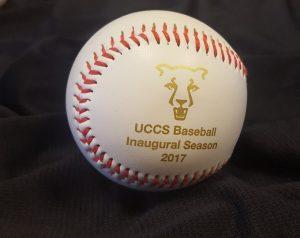 The UCCS baseball team will make its home debut and start a four-game series against the University of Nebraska-Kearney at 3 p.m. Feb. 17 at Spurgeon Field in Colorado Springs.
The Mountain Lions (4-3) and Lopers (4-4) will play a single nine-inning game on Friday, two seven-inning games on Saturday at noon, and close the first home series in program history with a single nine-inning game on Sunday at noon.
The first 100 fans will receive a souvenir baseball to celebrate the inaugural season of UCCS baseball. Chancellor Emerita Pam Shockley-Zalabak will throw out the ceremonial first pitch before the game in recognition of her efforts to establish the baseball program before her retirement from UCCS.
Spurgeon Field is located at 1315 East Pikes Peak Avenue. It was the original home for the Triple A Colorado Springs Sky Sox before the club built Security Service Field in northeast Colorado Springs. The facility underwent minor renovations with new bullpens to accommodate college baseball.
UCCS won its first series in program history last weekend in a 2-1 record at Colorado State-Pueblo in nonconference action. The Mountain Lions have won three of their last four games since an 11-1 win against Hope International on Feb. 4.
he Mountain Lions have the third-best record in the Rocky Mountain Athletic Conference through the first two weeks of the season, behind the 3-0 start for Colorado Mines and the 3-1 record for preseason favorite Colorado Mesa. This weekend will mark the final nonconference games for UCCS before the RMAC season starts March 3-5, in a four-game series at Regis.
All of the games will be broadcast for free on the UCCS Athletic Network, with coverage on the team's Facebook page.