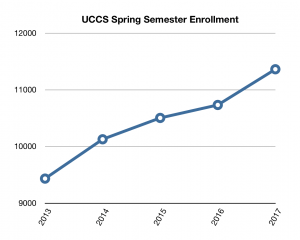 Spring 2017 student enrollment grew by 5.9 percent, or 631 students, to a record 11,366 from spring 2016, according to figures released this month. Spring 2012 enrollment was 8,993 students.
The number of course credit hours taught totals 131,047 this spring, an increase of 6.3 percent from 123,280 in spring 2016. Spring 2012 course credit hours taught totaled 103,745.
Spring enrollment grew for both undergraduates and graduate students. Spring undergraduates total 9,553, a 5.7 percent or 513 student increase over the 9,040 students in spring 2016. Graduate students total 1,813, up 7 percent or 118 students, from 1,695 students in spring 2016.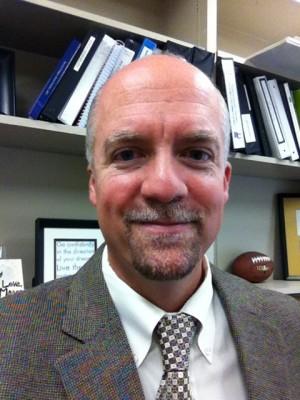 "These are terrific numbers," said Mathew Cox, senior executive director, Enrollment Management. "It takes the hard work and cooperation of faculty and staff across the campus to realize these kinds of results."
The official census date for the spring semester was Feb. 2. Figures were generated by the Office of Institutional Research.
Other spring census data include:
The number of new and returning freshmen on campus totals 1,883 this semester, with 2,126 sophomores, 2,244 juniors and 3,242 and seniors (including fifth-year seniors).
Nearly half of undergraduate students – 5,118 – are in the College of Letters, Arts and Sciences.
Among new and returning spring semester students classified as freshmen, the largest number, 62, are from Rampart High School. Another 59 attended Pine Creek High School and 56 attended Doherty High School. UCCS students come from more than 50 high schools and from as far away as Broomfield, Aurora, Castle Rock, Highlands Ranch, Arvada and Elizabeth.
The bulk of transfer credits for UCCS transfer students comes from Pikes Peak Community College, though students have transferred from more than 50 institutions, including University of Northern Colorado, Colorado State University, junior colleges and schools in Arizona, California, Texas and Wyoming.
The largest number of students reporting a country of citizenship other than the United States was Saudi Arabia, with 70 students, and 43 students from India. (Not limited to students with a temporary visa). Those numbers compare to 32 for Saudi Arabia and 29 for India in 2012.
10,270 students claim Colorado as their home state. More than 230 are from California, and 79 are from Texas.
To see more, click here for the 2017 Spring Databook.