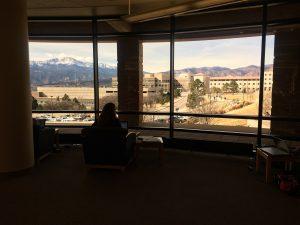 Fitness fans will soon have the option to exercise while they study. The Kraemer Family Library purchased two fitness study stations after being awarded a Green Action Fund grant. The stations include a low-speed exercise bike and a low-speed treadmill.
The Green Action Fund provided more than $4,000 to cover the cost of the treadmill and bike base, adjustable desk frames, two desktops, mats and maintenance.
"We're excited to meet student needs in new, creative ways," said Molly Mulligan, electronic resources acquisitions professional, Kraemer Family Library.
The low-impact treadmill, which can reach speeds of two miles per hour, and a study bike will be located on the second floor library apse. The library  chose the location to avoid quiet study areas and to show off the view of Pikes Peak.
The library plans to host a launch party 10 – 11 a.m. March 2, contingent on equipment delivery. There will be healthy snacks, and students will have the chance to test out the stations.
"We hope to make the connection between the active mind and body, where movement can stimulate creativity," said Mulligan.
She also hopes the new equipment will increase interest in sustainable transportation methods such as walking and bicycling.
Students, faculty, and staff will be able to use the stations on a first-come, first-served basis. Users will be able to put stickers on a board next to the equipment they used to help track usage. There will also be a basket with paper to leave additional feedback.
The library will evaluate the feedback to determine the future of the fitness study stations in the library.
For more information, contact Mulligan at [email protected].
A map of the library is available here: http://www.uccs.edu/Documents/library/info/full_map.pdf