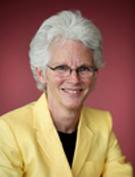 Cathy Claiborne, associate dean, College of Business, will become acting dean effective Feb. 16, 2017.
Her appointment was announced Dec. 20 by Terry Schwartz, interim executive vice chancellor, Academic Affairs. Claiborne's selection follows the appointment of Venkat Reddy as interim chancellor. Chancellor Pam Shockley-Zalabak announced her plan to retire from UCCS after 40 years of service, 15 as chancellor, effective Feb. 13, 2017.
"Dr. Claiborne will do a superb job," Schwartz said. " "I know the College of Business will work collaboratively and support her during this transition period."
Reddy said: "I am pleased that Cathy is willing to step into this role. She has the best interests of the college and the campus. I wish her all the best."
Claiborne joined the College of Business in 2007 as an associate professor. She served as chair of the Accounting and Finance Department from 2011 to 2013. Since 2013, she has worked as associate dean and associate professor of accounting. Claiborne developed an accounting ethics course for the College of Business and worked with the National Association of State Boards of Accountancy's Center for Public Trust to connect UCCS students with others interested in holding the accounting profession to the highest ethical standards. She served as the first faculty adviser for the Student Center for Public Trust in the UCCS College of Business.
Before joining UCCS, Claiborne held faculty and leadership positions at James Madison University, Harrisonburg, Virginia, California State University Channel Islands, Camarillo, California, and Texas Southern University, Houston, Texas. Before academia, she worked as a certified public accountant and as an audit and tax manager for a public accounting firm in Helena, Montana.
She earned master's and Ph.D. degrees from the University of Tennessee, Knoxville, Tennessee, and a bachelor's degree from Carroll College, Helena, Montana.