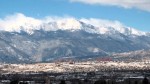 UCCS will be closed for several days at the end of the year.
Campus will close at noon Dec. 22 and reopen Dec. 27. Campus will close again at noon Dec. 29 and reopen Jan. 3. UCCS police and some other essential services will continue through the campus closures.
Winter commencement will be Dec. 16, and spring semester classes begin Jan. 17. Campus will be closed Jan. 16 in observation of Martin Luther King Jr. Day.
The final Communique email summary of 2016 year will be issued Dec. 9. News and other updates will continue to be posted to the Communique website, https://communique.uccs.edu, posted to Twitter at @UCCSCommunique, and on Facebook, UCCS Communique.
The next weekly Communique summary is scheduled for Jan. 20.
To submit ideas for Communique, call Tom Hutton, 255-3439, or send email to mailto:[email protected]