This month, the holiday classic "A Christmas Carol" returns to UCCS after 10 years with new actors in the starring roles. As with previous shows, Murray Ross, artistic director, Theatreworks, has added a twist on the original Charles Dickens story.
The classic has been re-written each time it's been performed at UCCS. "Whether it's a reading by one person all the way to a full cast of 30, Theatreworks tries its best to create a familiar yet fresh performance for the community," Ross said.
The twist this year is with the cast members. The production will consist of nine actors, some local and two from New York. Bill Metzo, who will play Scrooge, is a new member of the cast, discovered from previous New York City auditions. Tony Vo, a previous cast member from Boulder, now lives in New York.
The cast members will each play different characters of the ghost story, with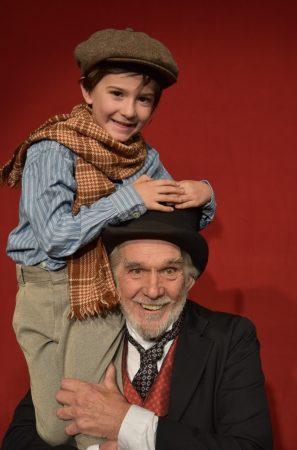 Tiny Tim saved by the kindness of Scrooge in the last minute.
"We are faithful to the original Charles Dickens story, and the community enjoys the mixture of traditional and new in our performances," Ross said.
The original Theatreworks Scrooge, Bob Pinney, died 10 years ago, which brought the production to a halt. This year, Ross and other Theatreworks staff felt it was time to bring the holiday classic back.
The play will last 75 minutes, without intermission. It is appropriate for families with members over age 5, due to the length of the performance.
"This will be a great experience for the community and I am really looking forward to reviving the story again," Ross said. "It's like having an old friend from high school show up at your doorstep after 10 years and still loving everything about them."
The play opens Dec. 1 and runs through Dec. 24. It will be performed at the Dusty Loo Bon Vivant Theater at UCCS.
Tickets are on sale now. Faculty and staff have been offered ticket deals with a promo code, and they are welcome to usher to watch the show for free. Students will be admitted for free.
For more information, please visit Theatreworks page: http://www.theatreworkscs.org/christmas.html