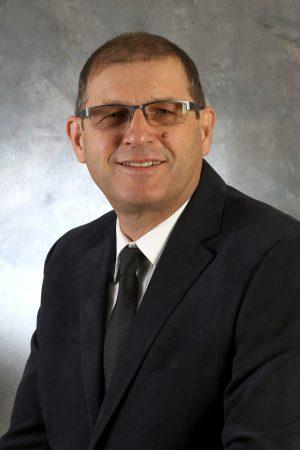 Zbigniew Celinski, professor, Department of Physics and Energy Science, was one of four CU faculty members named as distinguished during a Nov. 10 meeting of the CU Board of Regents.
CU Distinguished Professors are faculty members who demonstrate exemplary performance in research or creative work, a record of excellence in classroom teaching and supervision of individual learning, and outstanding service to the profession, the university and its affiliates.
CU President Bruce D. Benson reviewed nominations from CU's campuses. With the recommendation of a committee of distinguished professors, he forwarded the candidates' names to the Board of Regents. Meeting at CU system administration offices in Denver Nov. 10, the board voted in favor of the nominees.
Celinski is an internationally recognized leader whose expertise and impact in multiple areas of magnetic materials research are significant. His research in magnetic systems contributed to the ability to miniaturize many devices – including magnetic memories and microwave signal processing structures – and is revolutionizing their use in a wide range of applications. A member of the UCCS faculty since 1995, Celinski is ranked second in all-time research funding at the university. With a modest $13,000 in startup funding, he created the top magnetization dynamics lab at a U.S. university. His honors include Researcher of the Year at UCCS and CU system Inventor of the Year.
A reception celebrating Celinski is scheduled for 4 p.m. to 5:30 p.m. Nov. 21 in University Center 303. To attend, register here.
Celinski joins five other UCCS faculty in earning the distinguished professor title. The others are Tom Wynn, Department of Anthropology; Robert Camley, Physics and Energy Science Department, Donald Klingner, School of Public Affairs, and Tom Pyszczynksi, Psychology Department. Former faculty member Dan Cougar, College of Business, also received the honor.
CU has named 87 distinguished professors since the program's 1977 establishment.
Others honored were:
Bernard Amadei, professor, Department of Civil, Environmental and Architectural Engineering, College of Engineering and Applied Science, CU-Boulder. His research and teaching in geological engineering and engineering for developing communities have served students, professionals and communities around the world. He holds the Mortenson Endowed Chair in Global Engineering and is faculty co-director of the Mortenson Center in Engineering for Developing Communities. The graduate program he helped develop provides multiple pathways for engineers to enter the field of development engineering. At CU since 1982, Amadei has received numerous awards and is a past science envoy to Pakistan and Nepal for the U.S. Department of State. He has authored over 90 journal publications and four books.
John Hobbins, professor, Chief of Obstetrics, Director of the Prenatal Diagnosis and Genetics Center, CU School of Medicine at the Anschutz Medical Campus. He is world-renowned and an award-winning pioneer in the development and use of obstetrical ultrasound as a diagnostic tool. Having practiced medicine for nearly four decades, and at CU since 1991, he is one of the world's leading maternal-fetal medicine specialists. With more than 400 published journal articles, 13 books, 42 book chapters and nearly 200 abstracts, Hobbins has been a prolific contributor to the field. A dedicated teacher and mentor at CU and previously at Yale, he has trained 26 maternal-fetal medicine fellows and more than 300 residents in obstetrics and gynecology.
Ernest E. Moore, professor, Department of Surgery, CU School of Medicine at the Anschutz Medical Campus. The vice chair of research for CU Anschutz is considered one of the top academic physicians in the nation with 1,500 journal publications, more than 30 books written or co-edited, three U.S. patents and NIH funding secured for over 30 years. At CU and Denver Health for 40 years, Moore is an expert in trauma surgery. His work has advanced the boundaries of surgical science in many areas, including trauma-induced blood clotting, multiple organ failure and resuscitation with hemoglobin solutions. Among his many honors is the lifetime achievement award from the Society of University Surgeons.