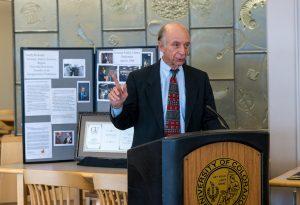 The campus community celebrated the 20th anniversary of the naming of the UCCS Kraemer Family Library at a Nov. 2 reception honoring Sandy and Dorothy Kraemer.
Martin Garnar, dean, Kraemer Family Library, said he began working in libraries 20 years ago. Then, he said, his concerns included fixing jams in the dot-matrix printers, loading CD-ROMS into a tower for three computers and wondering if the new "web" version of the catalog would work.
Garner thanked the Kraemers for their support of the library and described its growth since 1996:
Number of library staff: 16 in 1996, 26 in 2016
Total volumes: 276,944 in 1996, 412,715 in 2016
Instructional sessions on how to use the library: 87 in 1996, 403 in 2016
Patron visits: 264,738 in 1996, 852,476 in 2016.
-Photos by Joel Tonyan