It took more than a financial aid package to convince Kayla Woodhouse that UCCS would be the right school for her. When it came time to enroll, UCCS won her over with its offer to accommodate her rare medical condition.
Woodhouse was awarded an aid package in 2007, as part of an "Extreme Makeover: Home Edition" episode in which her family's home was renovated to accommodate the symptoms she has from Hereditary Sensory Autonomic Neuropathy (HSAN). The condition limits her ability to feel pain and regulate her body temperature.
Woodhouse thought she was destined for an online degree, until UCCS offered to accommodate her needs.
"UCCS has a great atmosphere for learning, and I am happy to be a part of this community." Kayla Woodhouse said.
Kim Woodhouse, Kayla Woodhouse's mother, learned through the UCCS financial aid department that her daughter would get more than financial help.
"The people in that office were so wonderful and we were not expecting to receive help with her condition," Kim Woodhouse said.
In her first year here, Woodhouse has made all the adjustments any new student would make plus others not typical of most students.
The Facilities Services Department installed two air conditioning units in Kayla Woodhouse's on-campus apartment to help regulate her body temperature. The university also made sure her classes were close enough to each other that she wouldn't get overheated when going to class. "These departments have gone above and beyond in helping adjust to campus," Kayla Woodhouse said.
After being homeschooled, and then attending Pikes Peak Community College for two years in an online program, Kayla Woodhouse said she has adjusted to the campus classroom very well. Kayla's brother, Josh Woodhouse, is a UCCS student, too.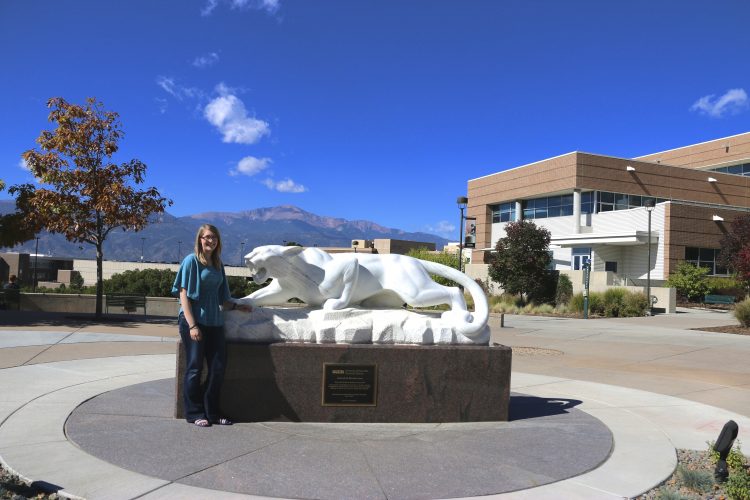 Her favorite class is British literature, taught by Tom Napierkowski, professor, English Department. "Kayla brings a positive presence to class; she comes to class prepared and contributes very well to the learning atmosphere." Napierkowski said.
Napierkowski's course, along with Kayla Woodhouse's English literature degree, has inspired her to consider teaching a masters-level course on British literature, specifically J.R.R. Tolkien. Tolkien wrote "The Hobbit," "Lord of the Rings" and "The Silmarillion."
Outside of working in education, Kayla Woodhouse hopes to share the joys of literature at a camp for children with disabilities. Her brother also plans to teach with his inclusive education degree.
Her family moved three years ago to the small town of Haxtun, Colorado, where her father was offered a job as a pastor. She liked the small town feel of Haxtun, but is happy with the ministry options in the larger Colorado Springs community. She plans to get involved with Operations Christmas Child, which delivers gift-filled shoeboxes to children in need.
Kim Woodhouse is most proud that her daughter wants to inspire other young people in reaching their goals, despite any challenges they may face.  Kayla Woodhouse said she believes a positive attitude is the key to accomplishing any goal, and UCCS is a stepping stone toward reaching hers.
– Photos and video by Savannah Waggoner. Video editing by Jeffrey M Foster