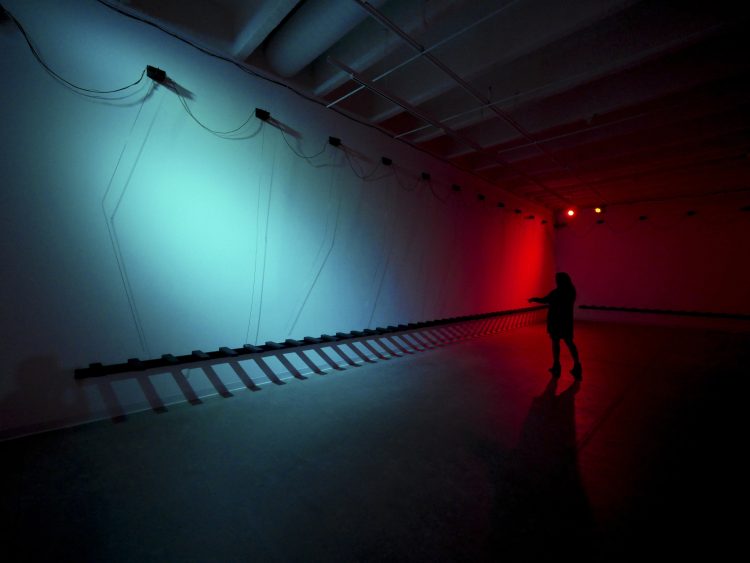 Boulder artist Michael Theodore will give a public lecture at the UCCS Galleries of Contemporary Art followed immediately by a performance by his ensemble Psychoangelo with Glen Whitehead responding to the "micro/macro" multi-sensory exhibit Nov. 3.
The lecture starts at 7 p.m., followed by performance at 8 p.m. Refreshments will be served, and parking will be free in Lot 222 during the event. The event is free, but registration is requested at http://tinyurl.com/h3bzlun or by calling 255-3504
Psychoangelo is a partnership between composer, guitarist, artist Theodore and Glen Whitehead, associate professor, Department of Visual and Performing Arts. Whitehead is a trumpeter and sound artist. This electro acoustic group creates artificially enhanced environmental music by sculpting ambience, density, orchestral textures, sound objects, and manipulating time through an improvised frame. Time Out Chicago named their release "panauromni" (Innova records) as a top 10 CD of the year.
"Micro/macro" is a monumental experiential installation by Theodore on display in the UCCS Galleries of Contemporary Art campus location through Nov. 19. Inspired by observations and experiences of the natural world, Theodore creates dynamic fields of color, light, and sound in a variety of mediums. Theodore holds faculty appointments at the University of Colorado, Boulder, with the College of Music (music composition and technology), the Department of Art and Art History (by courtesy), and is Director of the ATLAS Institute's Center for Media, Arts and Performance, an incubator for experimental media created with technology. Theodore received degrees from Amherst College, Yale, and the University of California San Diego.
Theodore's works, including interactive kinetic installations, sound and light works, moving images and musical compositions, have been presented across the United States, and in Mexico, Trinidad y Tobago, Greece, Spain, Germany, Sweden, France, Australia, Japan, and China.
Psychoangelo is currently working on its next recording project produced by Ryan Wurst and expected to be released in 2017 by the Always Human record label.
Gallery hours are noon-5 p.m. Wednesdays through Saturdays, or by appointment.
GOCA is a regional hub of contemporary art, culture and conversation. By featuring world-class artists, hosting artist and expert talks, and offering meaningful events, GOCA engages UCCS students, faculty, staff and Pikes Peak Region community members in contemporary culture and life. GOCA is a contemporary arts organization with two galleries, one founded on the UCCS campus in 1981 and a satellite downtown location that opened in 2010 in the Plaza of the Rockies building.