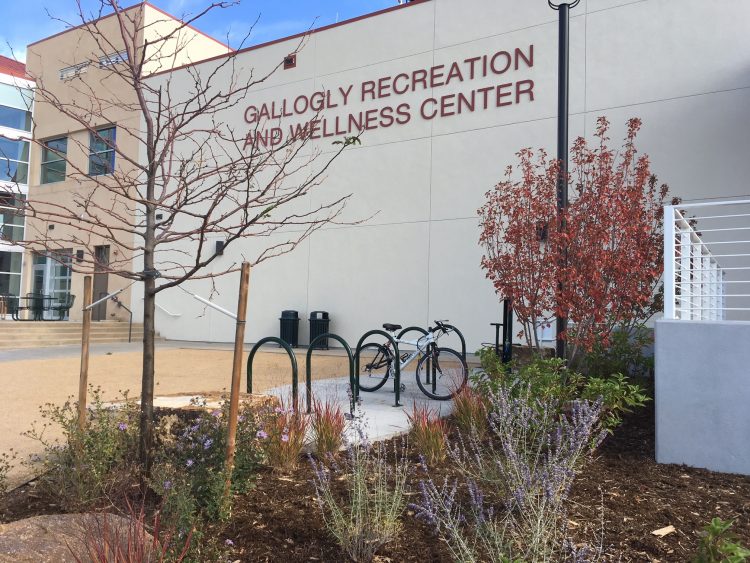 A newly expanded UCCS building housing recreation and wellness programs will be named in honor of a family of graduates and donors during ceremonies scheduled for 1 p.m. Oct. 17.
The UCCS Recreation and Wellness Center will be named the Gallogly Recreation and Wellness Center during brief ceremonies attended by family members, UCCS and University of Colorado leaders, faculty, staff and students. The 30 minute ceremony will include remarks by Jim Gallogly, Houston, a member of the class of 1974, UCCS Chancellor Pam Shockley-Zalabak and Racquell Valadez, a Colorado Springs senior studying sociology. Dozens of Gallogly family members are expected to attend.
"The Gallogly family is a UCCS and CU family," Chancellor Pam Shockley-Zalabak said. "The story of their family demonstrates that a UCCS degree can take you to untold personal and professional success. We are deeply grateful for their support."
The naming marks the Gallogly family's continued support of key UCCS initiatives. Jim and Janet Gallogly recently provided $2.8 million to UCCS to support initiatives in cybersecurity and student scholarships. The gift will be divided into the following categories
$1.5 million to support a new faculty chair in the College of Engineering and Applied Science. The Gallogly Endowed Engineering Chair in Cybersecurity will focus on leading edge research in cybersecurity and will work closely with local schools and industry. Recruitment for the position is expected to begin this fall.
$650,000 in support to the Chancellor's Leadership Class Endowed Scholarship. The Chancellor's Leadership Class is the premier merit scholarship program at the university.
$125,000 to the Karen Possehl Women's Scholarship Endowment in honor of Margery Gallogly, Jim Gallogly's mother. The KPWE Scholarship is directed to non-traditional women students.
$525,000 to a Reach Your Peak Endowed Scholarship named in honor of Tommy Gallogly, Jim Gallogly's father. Tommy Gallogly earned degrees from UCCS in 1970 and 1973.
"The Gallogly family is pleased to continue its strong partnership with UCCS," Jim Gallogly said. "Three generations of family members are now graduates. We believe anything is possible with a UCCS degree."
The Gallogly family also recently announced plans to donate to programs at CU Boulder.
Jim Gallogly is the retired chief executive of LyondellBasell in Houston, a large polymers, petrochemicals and refining company. He previously held executive positions with ConocoPhillips, ChevronPhillips and Phillips Petroleum dating to 1980. He earned a bachelor's degree in psychology from UCCS in 1974 and a law degree from the University of Oklahoma in 1977. Jim and Janet Gallogly have three daughters, Kelly, Kasey and Kimberly. Kasey (Gallogly) DeLuke is a CU Boulder alumna.
Jim Gallogly graduated from Wasson High School in Colorado Springs and followed in his father's, footsteps to UCCS along with six siblings: Mary Gallogly DeSantis, 1977; Tony Gallogly, 1983 and 1996; Nicholas Gallogly, 1985; Andrew Gallogly, 1987; Paul H. Gallogly, 1988 and Thomas Gallogly, 1990. Seven of 10 children born to Tommy and Margery Gallogly graduated from UCCS. Andrew Gallogly's son, Hunter, is a 2015 UCCS graduate.
In 2010, Jim and Janet Gallogly, on behalf of the Gallogly family, honored Tommy Gallogly by donating $1 million to the university. The Gallogly Events Center is named in his honor. Tommy Gallogly began at UCCS as a non-traditional student following a U.S. Air Force career. He later taught and coached in Academy District 20 schools.
The Gallogly Recreation and Wellness Center opened in February following a $16.3 million renovation and expansion that brought recreation, physical health and mental health services under a single roof. The 49,000 square foot addition was built to meet tough Leadership in Energy and Environmental Design standards and boasts equipment that allow students with disabilities to utilize recreational spaces.