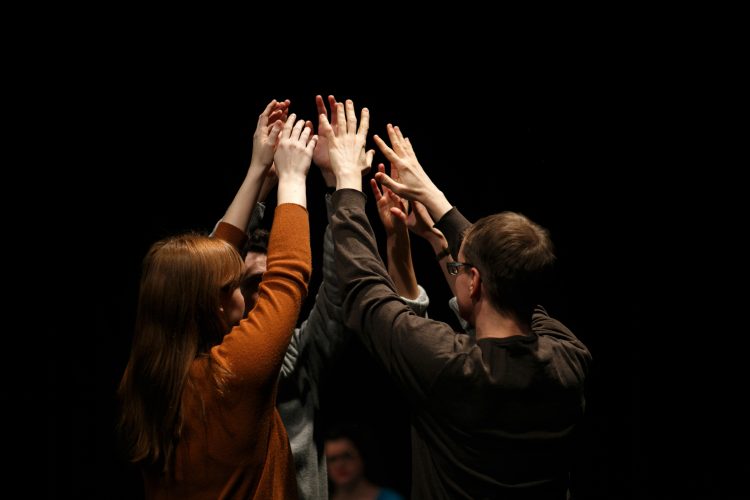 New York City-based theater artists 600 Highwaymen will work with UCCS theater and dance students and will be in residence in GOCA1420, the campus contemporary art gallery.
The appearance is a combined effort of the UCCS Galleries of Contemporary Art and UCCS Theater and Dance program. The residency was the result of efforts by Kevin Landis, associate professor, Visual and Performing Arts Department, to connect theater students to New York's Public Theater.
Throughout October, November and December, 600 Highwaymen will work with UCCS theater and dance students to produce "The Fever," a new theater work that will premier in January at the Under the Radar Festival in New York. Two UCCS theater students will travel to New York and serve as interns on the festival.
Public performances of "The Fever" will be at 7:30 p.m. Dec. 1-4 and Dec. 7-10 at the GOCA1420 Gallery. Limited tickets will be released starting Nov. 1. Performances are free and open to the public.
"The Fever" is an amalgam of music, theater and choreography examining how humans assemble, organize and care for our own bodies and the bodies around us. The performance is inspired by Igor Stravinsky's "Rite of Spring" and invites the audience to co-create a work of art that will change from night to night.
600 Highwaymen is the moniker for theater artists Abigail Browde and Michael Silverstone. The duo has created six original works since 2009, with presentations in New York in Under The Radar (The Public Theater), Crossing the Line (French Institute Alliance Française), River to River (Lower Manhattan Cultural Council). They have also appeared at the Wexner Center for the Arts, Columbus, Ohio; International Festival of Arts & Ideas, New Haven, Connecticut; FringeArts, Philadelphia, Pennsylvania; On The Boards, Seattle, Washington; Mount Tremper Arts, Mount Tremper, New York; Clarice Smith Performing Arts Center, College Park, Maryland; Fusebox Festival, Austin, Texas. In Europe, they have performed at Centre Pompidou and Parc de la Villette, France; Festival Theaterformen, Germany; Noorderzon Festival, The Netherlands; Zürcher Theater Spektakel, Switzerland. Upcoming presentations include Onassis Cultural Centre, Greece,and In BetweenTime International Festival, United Kingdom.
600 Highwaymen received an Obie Award in 2014, Zurich's ZKB Patronage Prize in 2015, and a Bessie Nomination for Outstanding Production of 2015.The company receives support from The Jerome Foundation, New England Foundation for the Arts, National Endowment for the Arts, New York State Council on the Arts, The Andrew W. Mellon Foundation, Foundation for Contemporary Arts, the Puffin Foundation and numerous individual supporters.
GOCA is a regional hub of contemporary art, culture and conversation. By featuring world-class artists, hosting artist and expert talks, and offering meaningful events, GOCA engages UCCS students, faculty, staff and Pikes Peak Region community members in contemporary culture and life. GOCA is a contemporary arts organization with two galleries, one founded on the UCCS campus in 1981 and a satellite downtown location that opened in 2010 in the Plaza of the Rockies building.