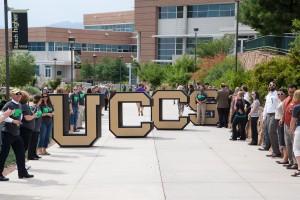 An Aug. 17 block party to celebrate the 20th anniversary of UCCS residential housing will highlight dozens of events as the 2016-17 academic year kicks off this month.
One of the biggest events will be Mountain Lion Rally on Aug. 17, with a 5:15 p.m. (approximate)  march from Gallogly Events Center to the Summit Village, which will host a 1990s-theme block party (dig out your Harry Potter books and Spice Girls outfits).
UCCS opened residential housing in 1996, and the newest building opens this fall: the San Juan House in the Village at Alpine Valley. Also new: the remodeled Lodge dining hall in Summit Village reopens for fall.
Before Mountain Lion Rally, PlayFair runs 3:15-5:30 p.m. Aug. 17 in Gallogly Events Center. Part of new student orientation programs, PlayFair bills itself as a team builder to kick off students' college careers. The chancellor will offer a welcome, then the Class of 2020 class photo will be taken before the march begins, with faculty and staff lining the pedestrian spine.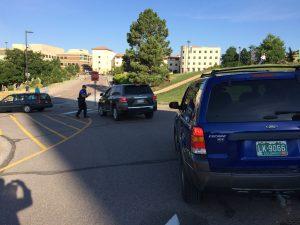 Move-in for students begins Aug. 16 and continues through Aug. 17, with the biggest group ever of first-year students moving to campus. Staff and faculty members are encouraged to park on the east side of campus on those days.
New faculty are invited to a reception 4-6 p.m. Aug. 16 in the Kraemer Family Library.
GPS (Gateway Program Seminar) Start Up Days will be Aug. 18 and 19 for incoming first-year students. Highlights include a campus-wide scavenger hunt and lunch on the west lawn both days.
Other events during Clyde's Kickoff (Aug. 16-21) include an Aug. 18 Spirit Den event to introduce UCCS student athletes (Gallogly Events Center), an Aug. 19 movie night (University Center), an Aug. 20 Village Fair (Alpine Recreation Field) and an Aug. 21 service event (to work on campus storm water projects).
Classes begin Aug. 22. Valid parking permits must be displayed by the first day of classes. (Click here http://www.uccs.edu/Documents/pts/parking/campus_map_2016.pdf for the latest parking map, and here https://communique.uccs.edu/?p=23658 for information about changes coming to parking lots).
Disorientation Week (Aug. 22-27) features Clydechella music festival (Aug. 22), a dodgeball tournament (Aug. 24) the Date Doctor (Aug. 25) and Glow Dance (Aug. 26). Learn more about Clyde's Kickoff and Disorientation Week here.
The student employment fair is Aug. 24, 10 a.m.-2 p.m. in Berger Hall. To learn more, click here.
And then, right around the corner? Labor Day, on Sept. 5. Campus will be closed.