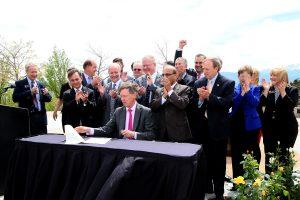 The cyber security center being founded at UCCS has a new name.
The board of directors of the National Cyber Intelligence Center voted Tuesday to change the center's name to the National Cybersecurity Center (NCC). The name change was sparked by competing usage of the acronym NCIC.
"Our work in getting this brand new National Cybersecurity Center off the drawing board is on pace," said Lt. Gen. Ed Anderson, interim director of the center and UCCS executive director of strategic military, science, space and security initiatives. "Our new name clearly states our intent to be the country's leading center on cybersecurity response, education, research and development and training."
Also Tuesday, the board launched a national search for a CEO for the center, with the goal to name the CEO this fall, Anderson said.
"As our country and state face looming challenges in cybersecurity, we need to ensure that both Colorado and the nation are as prepared as possible for possible breeches. Our partners that are working to create the National Cybersecurity Center (NCC) will ensure that Colorado is the center for carrying out this mission," said Gov. John Hickenlooper. "Colorado already has a very strong concentration of private sector companies and military organizations that work in cybersecurity, so it makes perfect sense that NCC would make Colorado Springs its home."
The center, launched this spring, is a partnership of UCCS and other higher education institutions; the military; state, federal, local governments; as well as private sector resources. The center will respond to cyber attacks, train government and private sector leaders to respond and support workforce development and research.
"We are thrilled with the progress of the National Cybersecurity Center and the opportunities it provides for economic development and national leadership," said Mayor John Suthers. "Our city was selected for very specific reasons including our excellent educational institutions and the existing talent and expertise in this area. We look forward to continued work with our partners including the state of Colorado and UCCS as we develop our city's reputation as a national leader in the area of cybersecurity."
As part of the partnership, UCCS will house the NCC in the soon-to-be renovated, university-owned building at 3650 N. Nevada Ave., where it will help to carry out the goals of cyber security legislation (HB16-1453) passed by the Colorado State Legislature and signed by Governor Hickenlooper in May.
Related:
Governor Hickenlooper signs cyber bill into law at UCCS
UCCS prominent in launch of National Cyber Intelligence Center