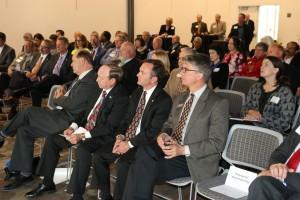 Creation of the Colorado Springs-based National Cyber Intelligence Center is moving quickly now, with an organizational structure, some board members and plans for funding in place.
UCCS is playing a prominent role in the launch of the center, envisioned as a national organization focused on three areas: research and work force education and training, cyber security rapid response and training for private sector executives and public officials. The center is being developed as a non-profit public-private partnership, and will be housed at the 3650 N. Nevada Ave. building UCCS owns.
Colorado is uniquely situated as the home of such a center, officials say, and Colorado Springs offers the perfect location, with its space- and cyber-related military installations, higher-education institutions and more than 100 cyber-related defense contractors and commercial firms.
"The vision is simple – pretty daunting, but simple," UCCS Chancellor Pam Shockley-Zalabak said at a Monday briefing on campus attended by several dozen community leaders and elected officials. "For Colorado and Colorado Springs to be a national leader in cyber education, training and research and in industry cyber response capability."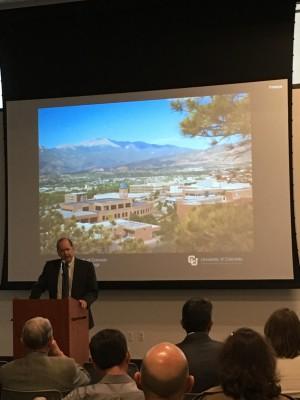 Several institutions have already committed to involvement in the center, including the University of Colorado Boulder, Colorado School of Mines, Colorado State University, University of Denver, the U.S. Air Force Academy, community colleges and the U.S. Military Academy West Point, she said.
"This is such a large effort that there is room for everyone," she said.
Martin Wood, senior vice chancellor, University Advancement, noted that UCCS has been involved in cyber education since the late 1990s, helping provide network security education and training for Air Force Space Command personnel. Talk of creating a national cyber intelligence center emerged on several fronts in the past year or so. Colorado Springs Mayor John Suthers said he was approached last year by a homeland security expert who suggested that the city would be the perfect home for such a center. UCCS leaders also were considering such a center before learning that Colorado Gov. John Hickenlooper was exploring the idea too, inspired by a visit to Israel and security agencies there.
"We decided this community should put a stake in the ground – a big stake in the ground," Wood said Monday.
Said Suthers: "Things are moving quickly."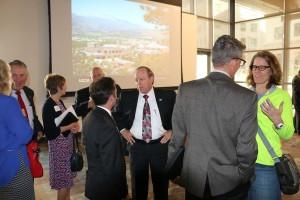 The center will have three components:
Cyber Research, Education and Training Center. This center will "provide a rich platform of current information to drive research and development in cyber security and help build an effective, talented workforce," according to a UCCS white paper.
Rapid Response Center. This center will be a resource for private industry and the public sector to assist with security breaches. "Part Navy SEALs, part Red Cross, the RRC is the front door to the NCIC and all information, cyber attacks, evolving threats and trends will be organized and shared with aprtners of the NCIC," according to the white paper. UCCS is taking the lead in developing the workforce initiative with other Colorado higher-education partners and a national consortium of eight higher education institutions.
Cyber Institute. The institute "will be a dedicated facility for federal agencies, states, cities and local governments to engage with real-time information on the latest trends, security best practices and educational resources for them – as well as a place for their teams to best manage our critical assets," according to the white paper.
Progress on the center includes:
The appointment of Army Ret. Lt. Gen. Ed Anderson as interim executive director. Anderson is executive director, UCCS Strategic Military, Science, Space and Security Initiatives. Officials are writing a job description for a CEO for the center and plan a national search.
Creation of a board of directors for the center as well as advisory boards for the research, education and training center, rapid response center and cyber institute. Suthers is chairman of the NCIC, and Shockley-Zalabak is treasurer. Eight of 15 NCIC board members have been named. Kyle Hybl, a member of the CU Board of Regents, is chairman of the Cyber Institute board. Wood is chairman of the Cyber Research, Education and Training Center.
Inclusion of $8 million in funding for renovation of the North Nevada Avenue building in a draft budget bill expected to be introduced soon in the statehouse.
Suthers likened the NCIC's launch to the creation of UCCS 50 years ago, when David Packard, co-founde of Hewlett-Packard Co., agreed to open a plant in Colorado Springs only if the University of Colorado would open a branch campus here too.
"This is the very same kind of watershed for Colorado Springs," Suthers said. "I'm very very excited about it, and my hat's off to UCCS and to the state and the incredible amount of work that's gone into this."
Related: UCCS to house cybersecurity intelligence center
Photos by Tom Hutton and Joanna Bean