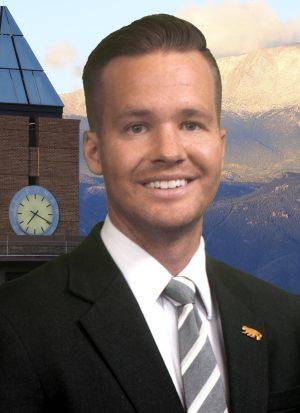 A Colorado Springs native with more than 10 years senior athletic administration experience will be the next UCCS director of athletics, university officials announced June 30.
Nathan Gibson, currently senior associate athletic director, will assume new duties effective July 1.
"I'm honored to be selected as the next athletic director at UCCS," Gibson said. "I'm excited to continue working with a great collection of student-athletes, coaches, campus leadership and our dedicated fan base. I especially want to thank Chancellor Pam Shockley-Zalabak and Vice Chancellor Susan Szpryka for their leadership and commitment to winning the right way."
Gibson joined the UCCS athletic department in 2006 as finance director and was promoted to associate athletic director in 2008. He was named senior associate athletic director in 2012. Gibson served as the liaison for athletic department staff and coaches to campus and system administration. He helped secure funding for recent improvements at the Mountain Lion Field for softball and at Mountain Lion Stadium for soccer and lacrosse, and also served on the build team for the Gallogly Events Center for basketball and volleyball.
Gibson has been a part of the evolution of the UCCS athletic department into one of the top overall programs in the Rocky Mountain Athletic Conference. He negotiated a contract with Nike for team apparel, oversaw the implementation and financial plans in four new sport programs and provided direct oversight and evaluation for five sport programs.
Gibson is a member of the Division II Athletic Directors Association, the National Association of Collegiate Directors of Athletics, and has been a voting member on behalf of UCCS at Rocky Mountain Athletic Conference meetings and the NCAA Convention. He was a member of the NCAA Division II South Central Region Advisory Committee in softball this spring and a member of the NCAA Division II Men's Golf National Tournament Committee for the 2016 championships. Gibson was selected for the CU Excellence in Leadership Program for the 2010-11 academic year.
"Nate Gibson is absolutely the right person to take UCCS athletics to the next level of competition," Chancellor Pam Shockley-Zalabak said. "He will build on the excellent foundation provided by retiring athletic director Steve Kirkham."
Gibson was a quarterback at Chadron (Nebraska) State College before he transferred to Azusa Pacific University and earned a bachelor's degree in social science in 2006. He earned a master's degree in sport and exercise science at the University of Northern Colorado in 2008. Gibson also teaches sport finance and economics and collegiate athletic administrator as an instructor in the Sport Management Program within the UCCS College of Business.
A Rampart High School graduate, Gibson was a two-time all-state quarterback. Rampart teams won a state championship and four Colorado Springs Metro League titles.
A seven-member search committee consisting of senior members in the UCCS Office of the Vice Chancellor for Administration and Finance and from coaches and staff from the athletic department made recommendations to Szpyrka and Shockley-Zalabak. The UCCS athletic department reports to Vice Chancellor Szpyrka.
Gibson replaces Steve Kirkham, who will soon turn 62. Kirkham announced his retirement May 11 after serving 12 years as UCCS athletic director and completing a nearly 40 year career in coaching and administration. At UCCS, he oversaw 11 conference championship teams, 42 All-Americans and all seven of the institution's Academic All-Americans. He was inducted in the Colorado Mesa University Hall of Honor in 2011 after a 16-year career as head women's basketball coach for the Mavericks. Kirkham and his wife, Coleen, are moving to Coleen's hometown of St. Francis, Kansas.