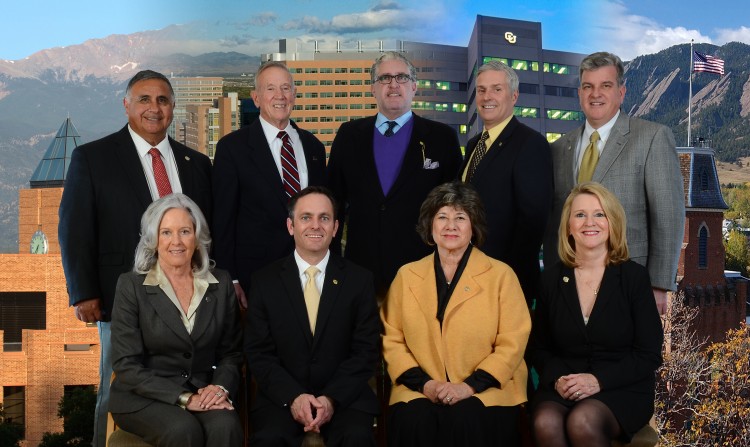 The CU Board of Regents at its June 16 meeting approved a $3.82 billion budget for fiscal year 2016-17, an increase of $27 million over FY2015-16's $3.55 billion. Of the budget, CU-Boulder's share is $1.58 billion, UCCS' is $228.4 million, CU Denver's is $278.1 million and the CU Anschutz Medical Campus' budget is $1.73 billion.
The budget is composed of projected revenue including tuition and fees; health services, auxiliary and operation services; federal/state/local grants and contracts, and private donations and other gifts. The state's contribution to the budget is $201.9 million, or 5 percent.
Todd Saliman, vice president and chief financial officer, told the regents that about 36 percent of the budget is education and general revenue, allocated for the functions of the university such as faculty, advising, scholarship and technology. The remainder of the budget is restricted funds such as private donations earmarked by the donor, and auxiliary funds for facilities, operations and maintenance.
The budget passed on an 8-1 vote by the board, with Regent John Carson, R-Highlands Ranch, as the dissenting vote.
"The overall budget increase is 5.7 percent, and the 2015 CPI was 1.6 percent," Carson said. "We're looking at three and a half times that. If we are going to continue to grow at three or four times the rate of inflation, where does that all end?"
Saliman explained that the increase in the budget reflected a projected increase in revenue from CU's operations.
"One of the reasons the budget is growing is because we're doing more research and we would hope that research the restricted funds grow faster than the rate of inflation because that means we're getting more grants, we're doing more work," Saliman said.
Clinical revenue also is on the rise.
"UPI (University Physicians Inc.) is an area that's growing rapidly, much faster than the rate of inflation because our doctors are providing more services to more people," Saliman said.
He also noted that auxiliary is growing faster than the rate of inflation. "That's our business operation, so you would want them to thrive. We hope people shop in the book store and live in our facilities."
To launch the budget presentation, Saliman premiered a video that explains CU's budget in simple terms. The video is available to help CU administration and the regents more easily communicate the budget with their constituents.
See the full budget presentation here.
—  Cathy Beuten, Office of the President