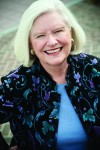 UCCS won a $350,000 grant from the Colorado Springs Health Foundation this month to help expand the number of nurse practitioners with expertise in mental health in southern Colorado.
 The funding is part of the new foundation's first round of grants. The foundation awarded $2.5 million to 40 organizations, with UCCS receiving the second-largest grant.
 UCCS plans to use the grant money to develop a psychiatric-mental health nurse practitioner program in the Helen and Arthur E. Johnson Beth-El College of Nursing and Health Sciences. Nurse practitioners who complete the program will be integrated into local primary care and be able to prescribe medication, helping meet two significant needs in El Paso and Teller counties, said Corrie West, UCCS development officer.
The grant money also will be used to also create an inter professional education program for nursing, psychology, health sciences and medical students. The program will focus on integrating mental and behavioral health into primary care.
 "Mental and behavioral health are now integrated into nearly all health service delivery systems," said Nancy Smith, dean, Helen and Arthur E. Johnson Beth-El College of Nursing and Health Sciences. "Health care professionals learn to work inter professionally from early in their education. This new program involves all health profession programs on campus, offering the richness of context that is needed to deliver mental and behavioral health service effectively."
 The university must raise about $315,000 in matching funds by Dec. 31 to secure the grant, West said.
 "There in an incredible need for these professionals, and we're all very excited about getting this program up and running," she said.
 The Colorado Springs Health Foundation was established in 2012 after the lease of Memorial Health System to University of Colorado Health. The foundation's grants, funded by proceeds of the lease agreement, target regional healthcare needs.