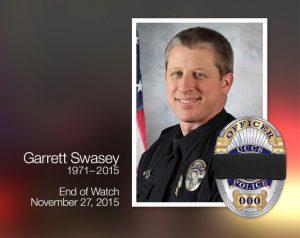 Garrett Swasey, the UCCS police officer who died Nov. 27, 2015 while responding to a shooting at a local Planned Parenthood facility, was awarded the campus police department's top honor in an awards ceremony June 22.
Swasey was awarded the UCCS Police Medal of Valor and the Police Cross Award. His widow, Rachel Swasey, accepted the awards on his behalf along with his parents, Dave and Sheila Swasey.
The Medal of Valor is reserved for sworn officers who have performed acts of courage or heroism in which they risked their lives. The Police Cross is awarded to an officer who lost his or her life on duty.
The Department of Public Safety also recognized two regional law enforcement officers who assisted the department after Swasey's death. Dan Haley of the Colorado State Patrol and Lt. Greg Maxwell of the El Paso County Sheriff's Office were awarded the University Police Award for Exceptional Service.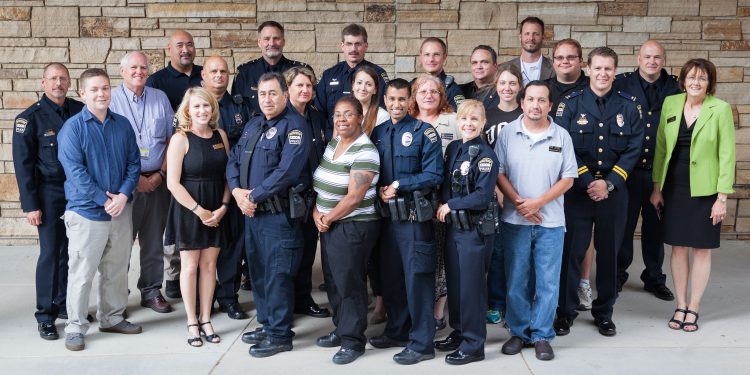 The UCCS Public Safety Department recognized the following sworn officers and staff members during its 2016 awards ceremony.
Commendation for Excellence: Lisa Dipzinski, police sergeant, Martin Toetz, police officer/detective; Craig Ginter, police officer, Jerod Heidrick, police officer, Melanie Strescino, police administrative programs specialist, Phillip Brotherton, communications technician, Kris Parsons, communications technician, and James Duvall, risk management director
Police Commendation for Merit: Heidrick and Courtney Vanous, communications technician
Police Citizen's Award: Ronn Honn, environmental health and safety manager
Employee of the Year: Tim Stoecklein, emergency manager
— Photo by Jeffrey M Foster