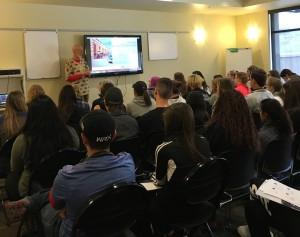 About 90 UCCS students will study abroad this summer and fall.
Their destinations? Australian, Belgium, Canada, China, Costa Rica, Czech Republic, Egypt, Germany, Guatemala, Italy, Ireland, Japan, Morocco, New Zealand, Panama, Poland, Peru and Spain, according to the UCCS Global Engagement Office.
Those 90 students represent a record for the university, said Mandy Hansen, director, Global Engagement Office, helping fulfill the university's goal of substantially increasing international and domestic multicultural program opportunities and to develop the global competencies of the UCCS community.
The office hosted a pre-departure meeting this month for students, offering information, advice and a 27-page "Education Abroad Pre-Departure Guide."
Hansen opened the meeting with this: "We have a room of explorers here!"
The meeting included a presentation from Fred Lege, nurse practitioner, Wellness Center, who has traveled abroad himself. He advised students about immunizations, how to pack medications and even how to clean contact lenses while abroad.
"You're in the prime of your life," Lege said. "It's a wonderful time to go out and see the world."
Amanda Allee, director of judicial and student affairs, Office of the Dean of Students, walked students through the university's code of conduct. Students are expected to comply whether on campus or abroad, she said, encouraging them to to be "good citizens and ambassadors of UCCS."
Photo by Joanna Bean