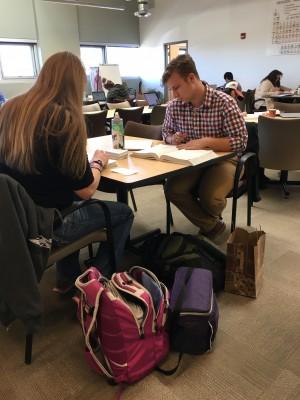 When senior Dax Bushway decided to pursue a pre-med minor, he knew he would have to succeed in chemistry. So after the director of the UCCS Excel Science Center visited his class to talk about the center right after the spring 2015 semester began, Bushway headed straight there.
"I did not have a strong background in chemistry," Bushway said. "I knew I needed help with it."
Bushway became a regular in the Excel Science Center, and he earned an A in that chemistry class. When he took another chemistry class last summer, he continued to visit the center. He earned another A. He's enrolled in organic chemistry now – and you'll find him at the center most days, working on any of his classes or maybe just watching Netflix.
"It really does make a difference," he said of the center. "If you're a committed student and want to learn, people here can really help."
The Science Center is one of five Excel Centers at UCCS. All are free to students, and each has a different focus and feel. They all share the same goal: to help students succeed and, ultimately, earn their degree from UCCS. The centers are a powerful retention tool, said Barbara Gaddis, Executive Director of student retention and first year experience. But the centers are sometimes misunderstood and underused, she said.
"A lot of times, students and faculty think they are remedial – you're struggling, you failed a test, go to the Excel Center," Gaddis said. "We think there is a stigma against going for people who think they are good students."
Sometimes students who think they have a handle on their classwork are in denial about their academic weaknesses and think they can pull themselves out of a tough situation, she said. Others fall behind in class. The centers can help those students, as well as students who are doing well and want to fine-tune an aspect of their studies.
"Ideally, students come here and leave as better students," said Chris Richey, who works in the Science Center.
Tutors in the centers don't typically re-teach material that was covered in class. Instead, they ask students about their difficulties in class, help them to go back over their notes or find what they need in the textbook and, often, encourage them to explain the material to a fellow student. Center staff help students develop a process for understanding the material so they can finish homework and take exams.
Aside from providing help with coursework itself, the centers create a sense of community among students, tutors and the center directors. The free coffee probably helps with that.
"Students discover a place that's theirs – sometimes just to hang out and do whatever," said Jenny Dorrington, Excel Math Center director.
Students who use an Excel Center typically earn higher grades and enroll the next semester, she said.
The Excel Centers are:
Science, Centennial Hall Room 204: This center focuses on drop-in tutoring and what it calls extra instruction to help students develop critical thinking and problem-solving skills. Students are encouraged to work together when possible with a tutor.
"We believe in a lot of group work because students learn best when they're explaining it (the subject matter) to other people," Gaddis said.
Languages and Social Sciences, Dwire Hall Room 265: This center focuses on languages, including American Sign Language (ASL) and foreign languages and assistance for English Language Learners, as well as social sciences (geography, anthropology, economics, and information systems). Students can walk in for individualized and collaborative tutoring. In addition, students, faculty and staff are welcome to participate in various conversation tables to maintain or improve their language skills.
Communication, Columbine Hall Room Room 312: The center provides help with all areas of communication, including presentation outlining, practice and review; job interviews; group projects; and other communication classes, all on an appointment basis. The center also offers one-on-one tutoring in help with psychology and philosophy classes, as well as review sessions.
Writing, Columbine Hall Room 316: Appointments are necessary at the writing center, where students work with a consultant not just on writing but also on brainstorming, understanding prompts, organization and revisions. The center helps with papers and also science lab write-ups, resumes and application letters, to name a few. The center is about to launch a language basics lab that will focus on grammar and other fundamentals.
Math, Engineering 233: The math center offers both tutors and a program called PASS, for peer-assisted study session, a guided study group in which students meet with a mentor to focus both on the class content and on how to learn it.
To learn more: ‪http://www.uccs.edu/~excel/