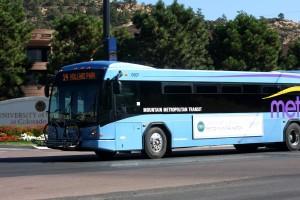 A Mountain Metropolitan Transit bus stop outside Centennial Hall may move but should remain close to campus after opposition from UCCS on city plans to reroute Route 9 and move the stop to Eagle Rock Road.
Mountain Metro proposed moving the Centennial stop as part of a broader set of changes aimed at increasing bus frequency across the transit system. Officials wanted to reroute Route 9 out of the Cragmor neighborhood to have the bus go straight up Nevada Avenue every 15 minutes. The proposal would have eliminated bus service on Mount View Lane through the neighborhood.
But the bus service changed its proposal after more than 30 people attended a Mountain Metro meeting on campus last week. Those opposing included Susan Szpyrka, senior vice chancellor, Administration and Finance, who voiced concerns on behalf of the UCCS administration.
"I'm very pleased that Mountain Metro is working with us to find a solution because what they presented earlier was not acceptable," she said.
She said Mountain Metro officials sent her new proposed Route 9 changes to review earlier this week. They include keeping a stop on Austin Bluffs near campus. UCCS and Mountain Metro officials are scheduled to meet about them Feb. 9, she said.
Moving the Route 9 stop to Eagle Rock Road would have required bus riders to walk to the main campus or use UCCS shuttle buses. Those shuttles are not intended to carry passengers other than UCCS students, faculty and staff. In addition, the UCCS shuttles do not run during semester breaks – a total of 12 weeks during the year, Szpyrka said.
Mountain Metro will continue to take public comment on its proposed changes through Jan. 30 at transitinfo@springsgov.com. The route changes are expected to take effect May 1, said Vicki McCann, Mountain Metro spokeswoman.
"We're pretty confident we can meet UCCS's needs and ours," McCann said.
Mountain Metro said the earlier proposed changes to Route 9 would have removed buses from campus congestion and dropped riders closer to the University Village Colorado shopping center, among other benefits.