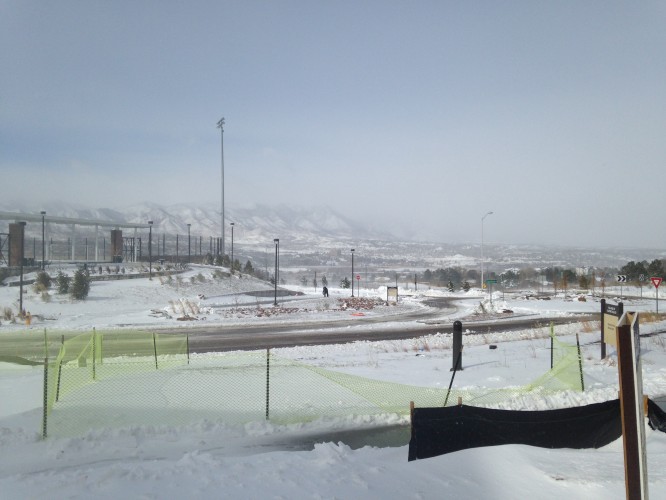 While most UCCS faculty and staff enjoyed a day off Tuesday, crews from the Physical Plant Department worked diligently to get parking lots and sidewalks cleared of a heavy, wet end-of-fall snow.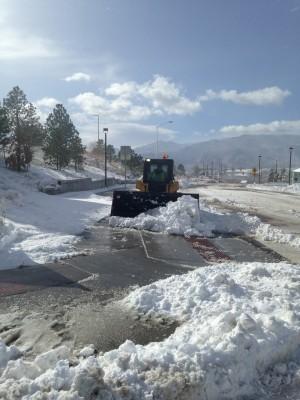 Using pickups and gators with snow blades, skid loaders, snow blowers and shovels, full-time and part-time student workers for the Physical Plant Department arrived on campus as early as 4 a.m. Tuesday in an effort to have the campus ready for business following a Monday night storm that dropped as much as 10 inches of snow in many campus locations. Winds clocked at 50 mph created large drifts.
By 10 p.m. Monday, campus leaders announced plans to delay Tuesday classes and work schedules until noon. As Physical Plant crews worked into the late morning Tuesday, they got word that campus would close all of Tuesday. They'd worked hard to meet the noon deadline but understood the whipping winds and unpredictable nature of Colorado weather meant closing was the safest decision.
In addition to Physical Plant employees, Dining and Food Services workers were also busy Tuesday. With more than 1,000 students now living on campus, there was breakfast to be made, long before the sun was up or streets cleared. University Police and dispatchers were also on duty Tuesday.
And while they didn't have classes Tuesday, the members of the UCCS Volleyball Team, coaches and staff loaded a charter bus Tuesday morning en route to Denver for a 7 p.m. game against Metro State in the RMAC quarterfinals.
— Photos by Tom Hutton