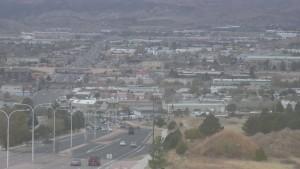 With forecasts for an early blast of winter weather this week, the Department of Public Safety provided guidance about campus operation during periods of bad weather.
Generally, according to Brian McPike, chief of police, Department of Public Safety, faculty, staff and students should presume campus is open and operating as normal.
The decision to close campus includes many factors, including the ability of buses to safely travel from parking lots near North Nevada Avenue on the northwest side of campus to main campus. But as weather conditions can vary widely within Colorado Springs and within commuting distance, McPike encouraged faculty, staff and students to use their best judgment about traveling safely.
WeatherBug, an online weather station network, installed a live weather camera on the Alpine Parking Garage and Field in Nov. 2014. The camera allows UCCS and Colorado Springs community members to check campus weather and road conditions in real-time, and can be viewed here: Alpine Garage and Field WeatherBug camera.
In the event of a campus closure, university officials will strive to make a decision by 6 a.m. for day classes and by 3 p.m. for evening courses.
The official ways to find out about UCCS campus closures are:
Text message: Those who have registered for the campus emergency notification system, UCCS Alerts, will receive a text message notification of weather-related campus closures. To receive emergency-related text messages, visit http://alerts.uccs.edu/
Phone: Call the campus emergency notification line, 255-3346.
Email: In the event of closure, email is sent to faculty, staff and student lists.
Social media: The Emergency management office will immediately post information regarding closures on its UCCS Emergency Management Facebook page and on the @UCCS_Prepared Twitter account.
Web: Visit http://www.flashalert.net/news.html?id=502. Announcements will also be posted on the front page of the UCCS website, http://www.uccs.edu.
Media outlets: Television: Colorado Springs stations KOAA, KRDO, KKTV and KXRM or Denver stations KCNC, KWGN, KMGH, KUSA, KOA or KCEC. Radio: Listen to KYZK, KVUU, KRDO, KILO, KVOR, KRCC, KTLF, KCME, MCMN, KKLI, KCBR, PEAK, KSKX, KKCS, KBIQ, KBZC, KKFM, KKMG, KMOM, KCCY, KGFT in Colorado Springs or KCSJ, KDZA, KNKN, KRMX, KGHF in Pueblo. Newspapers:  Read the websites of the Colorado Springs Gazette, www.gazette.com or Pueblo Chieftain, www.chieftain.com/