The class of 2019 never licked a postage stamp, see Wi-Fi as an entitlement, and have always watched television in such high definition that the pores of actors and grimaces of quarterbacks were clearly visible.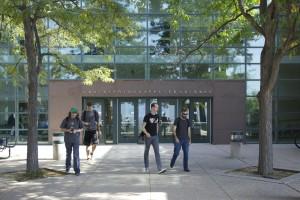 Those observations — and that Jacques Cousteau and Mother Teresa did not live in their lifetimes — highlight the 2019 Beloit College Mindset. The list is the brainchild of the college's Ron Nief and Tom McBride and for years was shared with UCCS faculty and staff by Charlie Shub, professor emeritus, College of Engineering and Applied Science.
While no one expects Bob Dylan's music to be reverberating off the walls in freshman residence halls, the list serves as reminder that the times, they are a-changing. The list's pithy examples show the differences in experiences of the current generation from their predecessors, often fueled by time and technology.
"Hmmm," Michele Companion, associate professor, Department of Sociology, and a Gateway Program Seminar instructor said after reviewing the list. "It's sad to think that they grew up in a world without Jacques Cousteau. He had a profound impact on my life."
Examples from this year's list of observations about entering college students, many of whom were born in 1997, include
Among those who have never been alive in their lifetimes are Princess Diana, Notorious B.I.G., Jacques Cousteau and Mother Teresa.
Hybrid automobiles have always been mass produced.
Google has always been there, in its founding words, "to organize the world's information and make it universally accessible."
They have never licked a postage stamp.
Email has become the new "formal" communication, while texts and tweets remain enclaves for the casual.
Four foul-mouthed kids have always been playing in South Park.
They have grown up treating Wi-Fi as an entitlement.
The announcement of someone being the "first woman" to hold a position has only impressed their parents.
"No means no" has always been morphing, slowly, into "only yes means yes."
Cell phones have become so ubiquitous in class that teachers don't know which students are using them to take notes and which ones are planning a party.
If you say "around the turn of the century," they may well ask you, "which one?"
They have avidly joined Harry Potter, Ron, and Hermione as they built their reading skills through all seven volume
When they were born, cellphone usage was so expensive that families only used their large phones, usually in cars, for emergencies.
The therapeutic use of marijuana has always been legal in a growing number of American states.
Teachers have always had to insist that term papers employ sources in addition to those found online.
Mr. Jones and Mr. Smith have always been Men in Black, not their next-door neighbors.
To see the complete list, as well as commonly used expressions that are baffling to parents, older friends and teachers, visit https://www.beloit.edu/mindset/2019/