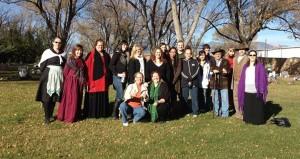 A UCCS history instructor will lead an all-volunteer cast in bringing veterans of the Civil War and World War II back to life.
On Sept. 26, Barbara Headle, senior instructor, Department of History, College of Letters, Arts and Sciences, will lead efforts at Fountain's Fairview Cemetery to interpret the lives of those buried there. Headle's goal is to make history come alive as students and community members apply research methods and combine them with story-telling techniques. There are 165 known veterans dating to the Civil War buried at Fairview.
Tours of the cemetery, 757 South Santa Fe Ave., Fountain, will be from 10 a.m. to 3 p.m. and last one hour. Tickets are $10 for adults, $7 for children more than 12 years old. Proceeds will be used to repair and maintain the cemetery.
For the first time since 2012, the actors who will interpret lives are volunteers. Some of Headle's previous students plan to participate and a family of one of the deceased will travel from Chicago to see the interpretation of their family member's life.
Previously, students in Headle's course "The Last Great Necessity: Cemeteries, Memory and American History"completed the reenactments. Headle's interest was sparked in 2012 when, following a class visit to the cemetery, vandals broke about a dozen headstones belonging to mostly children.
For more information, contact Kim Sweetwood, graduate student, Department of History, [email protected] or visit https://www.facebook.com/FFFCemetery?fref=ts