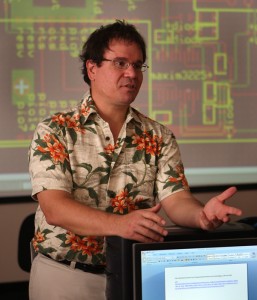 Terry Boult, El Pomar Endowed Chair of Innovation and Security, will receive the Nikola Tesla Award from Imagination Celebration Sept. 10.
Boult will be recognized for his role in creating the Bachelor of Innovation program at UCCS. The BI family of programs is a unique interdisciplinary undergraduate program between the College of Engineering and Applied Science, College of Business, College of Letters Arts and Sciences and College of Education. Each option in the program is composed of an emphasis major, an innovation core and one of four cross-discipline cores. Teams of BI students regularly work with companies, many of them local, to help drive innovations forward.  More details can be found at http://innovation.uccs.edu.
Five other individuals will also be recognized with other awards named for regional icons. Tesla was an inventor, electrical engineer, mechanical engineer, physicist, and futurist best known for his contributions to the design of the modern alternating current electricity supply system.
The awards will be presented at 4:30 p.m. Sept. 10 Johnny Martin's Car Central, 1 South Nevada Ave. Tickets are available at http://imagination-celebration.ticketleap.com/whatifawards. For more information, visit http://www.imaginationcelebration.org/