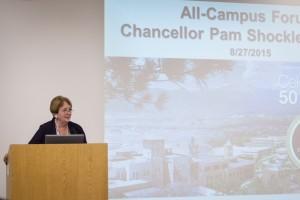 UCCS has new students, faculty, programs and buildings but still faces challenges, Chancellor Pam Shockley-Zalabak said during her first forum of the fall semester.
The campus welcomed 13 new tenured and tenure-track faculty, more than 3,000 new students and is on track for a record enrollment of 11,400 this fall, Shockley-Zalabak said during the upbeat forum.
"If you haven't noticed that there are a lot of people on campus, I want your director to let you out more," Shockley-Zalabak said. "There are definitely more people around campus and it's pretty exciting."
Shockley-Zalabak praised Auxiliary Services and Facilities Services staff members for their efforts to ensure the Village at Alpine Valley student housing opened on time and highlighted the Aug. 13 groundbreaking of the UCCS Ent Center for the Arts. Both occurred despite record spring and summer rains.
She also highlighted new degrees approved or scheduled for discussion by the CU Board of Regents. In April, the regents approved a bachelor's degree in engineering education and a master's degree in accounting. In September, the regents will vote on a bachelor's degree in education, a master's degree in athletic training and begin discussions of a bachelor's in exercise science. UCCS will also begin discussions of expanding its athletic programs.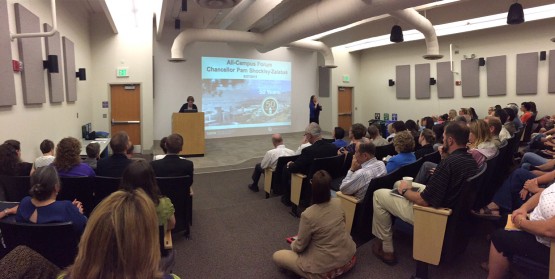 While expansion is good, Shockley-Zalabak also emphasized the importance of maximizing existing facilities and scheduling courses at times when students want them.
"It really is Monday through Saturday and different types of scheduling," Shockley-Zalabak said. "Returning students, as well as our first-time freshmen, want to have multiple ways of going to school. We have to really look at how we use our physical plant and teach when we can maximally use our classrooms and when it is pedagogically appropriate."
By maximizing use of physical spaces, UCCS will be able to redirect funds from construction to hiring additional faculty and staff, improving compensation and providing additional student scholarships.
Being efficient is imperative, Shockley-Zalabak said, because there is little support for large tuition increases and increases in state funds are unlikely. She also encouraged faculty and staff to continue to be helpful to new students and create a welcoming environment. For many new students, the first few weeks on campus are important to their decision to stay or return home.
"Your ability to make a difference while doing good work has never been greater," Shockley-Zalabak said. "We have very diverse low income first generation set of students. We know they are intellectually capable. We just need to help them see how they can be capable and successful in this environment."
Future forums are scheduled for
Sept. 24, 1 p.m.: Community Partnership Update, Martin Wood, executive vice chancellor, University Advancement
Oct. 26, 1 p.m.: Metrics & Cost-Drivers for Higher Education & UCCS, Chancellor Pam Shockley-Zalabak
Nov. 30, Noon: Online Education,Venkat Reddy, associate vice chancellor for online education and initiatives, Academic Affairs
Dec. 15, 1 p.m.: Higher Learning Commission Accreditation, Terry Schwartz, associate vice chancellor for academic and faculty affairs, Academic Affairs
— Photos by Jeff Foster
— Video by Media Services