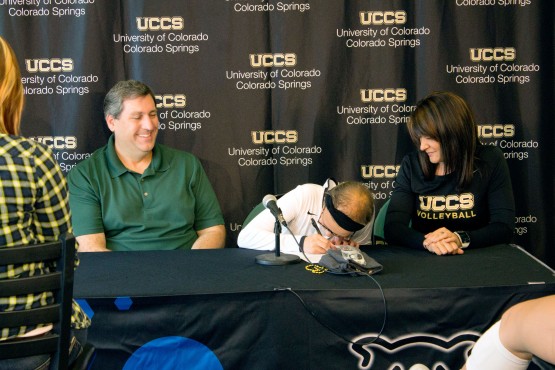 The UCCS Mountain Lion Volleyball team signed eighth-grader Hannah Skrastins of Colorado Springs Christian School to a letter of intent Aug. 27 in the Gallogly Events Center skybox.
Skrastins was an active volleyball player before she was diagnosed with a medulloblastoma brain tumor last summer. She had a tennis-ball sized tumor between her brain stem and cerebellum removed a week after her diagnosis and underwent high-dose radiation and chemotherapy through February 2015. Skrastins' last MRI showed no evidence of disease, but because of the size of her tumor and the therapy, she has lost most of her vision and some feeling in her feet. She had a strong serve and would count her bruises with pride before the headaches that led to her diagnosis.
UCCS Volleyball and Skrastins were paired through the Friends of Jaclyn Foundation, an organization that aims to improve the quality of life for children battling pediatric brain tumors and other childhood cancers by matching them with local high school and college teams. The Mountain Lions will involve Skrastins in as many team activities as she's able to participate in throughout the season and into the offseason.