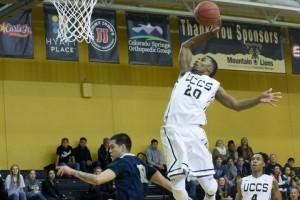 Campus and community members can celebrate the historic seasons of Mountain Lion men's and women's basketball teams from 5:30 p.m. to 7:30 p.m. May 6 at the Upper Lodge.
The event will feature the unveiling of team banners that will be displayed in the Gallogly Events Center next season. Student-athletes and coaches will be on hand for fans to meet and RMAC men's basketball championship trophy will be displayed. Clyde, the UCCS mascot, will be present for photos.
The event is free. Reservations can be made by contacting Beau Kelly, Office of Development, 255-5106, bkelly5@uccs.edu.
Both UCCS basketball teams built advanced to the NCAA Division II Championships and set records for the number of wins. The Mountain Lions were one of six schools among more than 300 in NCAA Division II where both men's and women's teams won first round tournament games. The UCCS men won their first RMAC Tournament championship in program history and the UCCS women advanced to the Sweet 16 of the NCAA Division II National Tournament.