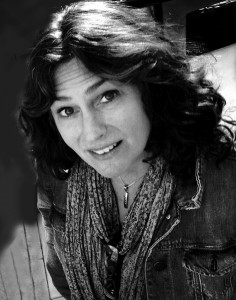 Andrea Herrera, professor and director of the UCCS Women's and Ethnic Studies Program is the 2014-15 recipient of the Chase Faculty Community Service Award.
Each year, a full-time CU faculty member who provides exceptional service to the community receives a $10,000 endowment, funded by a grant from Chase. An advisory council recommends an award-winner to CU President Bruce D. Benson, who bestows the honor. Herrera will be recognized by the CU Board of Regents during a regular meeting later this year.
Herrera arrived at UCCS in 1999 to direct a minor in ethnic studies. With colleagues in ethnic studies and women's studies, she developed a women's and ethnic studies major, one of the only programs of its kind in the U.S., which now offers four certificates. Her academic work includes art, theory, creative writing, literature and literary criticism. Through her creativity – from books to poems, a novel and a play set to be presented as a staged reading this summer at Su Teatro Cultural and Performing Arts Center in Denver – she shines light on issues of social justice and how diversity and inequity shape lives.
"Dr. Herrera's service in the larger community is profound in both breadth and depth," wrote Abby Ferber, professor, WEST, in her nomination letter. "She is a highly motivated, passionate, empathetic and imaginative leader."
Her service to the community includes engaging with elementary students, speaking at K-12 events and working with the Pikes Peak Library District to bring writers, scholars, artists and art exhibitions to the community. She created and coordinates two annual undergraduate scholarship competitions at UCCS, the Rosa Parks and Cesar Chavez Scholarship Awards, which recognize and honor undergraduate creative and scholarly work that focuses on human rights and social justice. Besides sitting on many national and international editorial and advisory boards, she has served on several community boards including ArtSpace and FutureSelf.
Among Herrera's volunteer engagements is Military Creative Expressions, an art therapy workshop offered by the Colorado Springs Fine Arts Center that serves veterans and active military personnel with Post Traumatic Stress and Traumatic Brain Injury. She helped revise the curriculum to include a creative writing component, and co-coordinated additional events aimed at educating others about wounded warriors in the community, including art exhibits and presentations in Colorado Springs and Denver.
Herrera's many honors in academia include the Fulbright Distinguished Chair in American Studies, with a placement at Maria Curie-Sklodowska University, Lublin, Poland; CU's Thomas Jefferson Award, the President's Teaching Scholar Award; the Elizabeth D. Gee Memorial Lectureship Award; and the Chancellor's Award for Excellence in Research, Teaching, and Service.
"My deep respect for diverse cultures was first cultivated at an early age," Herrera said. "Totally conscious of their positions as first- and second-generation emigres, my parents opened our home to an eclectic gathering of people from various parts of the world, which included an array of relatives, acquaintances and even strangers who had all left their native countries under duress and consequently became part of our 'extended' family. Privy to passionate discussions regarding human rights and social justice, I became acutely aware of the emotional, psychic and social conditions under which people living in diaspora adapted and survived; as a result, my commitment to serving others was shaped indelibly by these childhood experiences."
The Chase Faculty Community Service Award – established in 1991 with a $100,000 donation – is funded annually by an endowment from the JPMorgan Chase Foundation through the CU Foundation. The endowment provides an annual award of $10,000 to a full-time faculty member at the University of Colorado who has rendered exceptional service in his or her community.