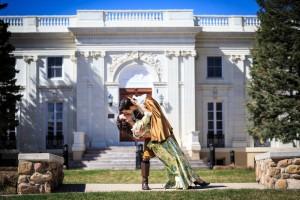 Theatreworks will present "The Liar" from April 23 to May 10 at the Dusty Loo Bon Vivant Theater in University Hall.
"The Liar," written by Pierre Corneille, is a French comedy originally written in 1643 and adapted by David Ives. The play is a classic of French confection, layered with confusions, duels, romance, masquerades and comedy.
The play centers on Dorante, an incorrigible liar, who comes to Paris seeking pleasure. He falls head over heels for the beautiful Clarice, but mistakes her name for that of her best friend, Lucrece. After lying his way into a world of trouble, can Dorante lie his way back out again?
Showtimes are:
7:30 p.m. Wednesdays and Saturdays
2 p.m. Saturday
4 p.m. Sundays
Tickets are $35 for adults, $15 for children less than 18. Children less than 5 years old will not be admitted. Reservations are encouraged. Please visit http://www.theatreworkscs.org/the-liar.html or call the box office, 255-3232.
A free prologue lecture is planned for 2:30 p.m. April 26. Bil Lepp, a storyteller, comedian, author and five-time winner of the West Virginia Lying Contest, will lead a demonstration and workshop on telling whoppers.
— Caitlin Green, Theatreworks